New Photoshoot For Vorsteiner Ferrari 599-VX Coupe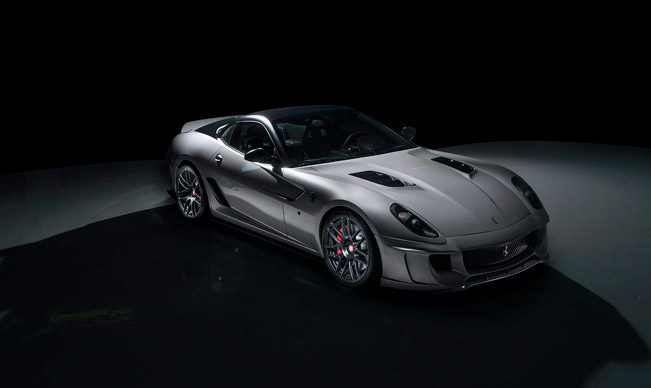 Vorsteiner Ferrari 599-VX is a project which we have already seen, but what we haven't seen so far is the new exclusive photoshoot of the car. The tuners at Vorsteiner have also released a little bit more information about the tuning, and how they have managed to improve even more the fluidic natural lines and essence of the Ferrari.
First of all, the specialists have worked to make better the aerodynamics of this icon. They have added a 599-VX Front Bumper with integrated spoiler. In fact, these pieces keep the functionality of the car without compromising on its quality, aesthetics, or performance.
This means that the styling of these components takes the 599 a step away from sports car and a step closer to race car. In order to create them, Vorsteiner has utilized the latest in carbon technology that offers a considerable weight savings over the factory pieces. Here is also available the Primered Carbon Fiber with Optical Carbon Fiber Front Chin Spoiler.
The Vented Race Hood is another prominent element of this Ferrari. It not only gives contributes for its aggressive stance but also improves car's weight, because it is made of Autoclaved Pre-Preg Carbon Fiber.
This element also delivers superior stiffness, aerospace strength and durability compared to traditional hand laid carbon fiber composites. Here the available option is the Carbon Fiber Primered Body with Carbon Fiber Optic Vents Pre-Preg.
Furthermore, the car now features side sill extension blades which are also made of Autoclaved Pre-Preg Carbon Fiber. As an option is being offered Carbon Fiber Pre-Preg with 4 Stage UV Inhibiting Clear Lacquer Coating.
At the rear, it is visible that the vehicle has a new rear bumper with integrated diffuser which was designed carefully to stabilize the additional down force provided by the front and side elements. The rear bumper is made of the same material as the aforementioned parts.
The Ferrari can be also optionally equipped with 599-VX Exhaust System Stainless and Primered Carbon Fiber Pre-Preg. At last to be mentioned is the Rear Deck Lid Spoiler, which rounds-off the exterior tuning of this project.
Source: Vorsteiner