Pure Focus: Vorsteiner Ferrari 599-VX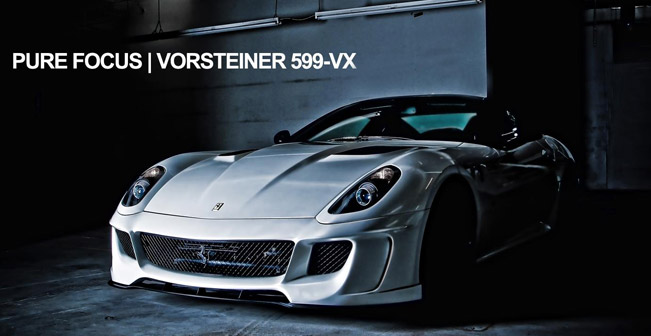 Vorsteiner Ferrari 599-VX is now out enhancing the fluidic natural lines and essence of the emblematic car. As a true Ferrari, this vehicle is pure perfection, which now is even more perfect.
The tuners from Vorsteiner have enhanced the aerodynamics of this icon in several ways. First of all they have added a 599-VX Front Bumper with integrated spoiler and thus have improved the front end. The pieces of it serve in such way that they keep the functionality without making any compromise on quality, aesthetics, or performance.
In addition, this also contributes to a leap from sports to a race car. Using the latest in carbon technology, Vorsteiner were able to create a tuning program that offers incredible weight savings over the factory pieces.
Next added here are the 599-VX Carbon Fiber Vented Race Hood and the 599-VX Carbon Fiber Side Sill Extension Blades, which gives a subtle aggressive look to the Ferrari. Saving weight from the factory hood it seamlessly adds a muscular sophistication on its sculpted body. This part gives superior stiffness, aerospace strength and more durability.
599-VX Carbon Fiber Rear Bumper and the 599-VX Carbon Fiber Deck Lid Spoiler on the other hand keep Ferrari's race heritage. Here, the inclusion of the rear bumper with integrated diffuser was designed in order to stabilize the additional down force provided by the front and side elements.
At last, some small details contribute to the overall new feeling that the car delivers to the driver and occupants. Such for instance are the 4-piece Vorsteiner 599-VX Floor Mats, which were designed to precisely fit and accent the car. Adding more luxury and durability, they were made with slip resistant material that keeps the shape and form of the mat.
Source: Vorsteiner