Premiere: Volkswagen Design Vision GTI Concept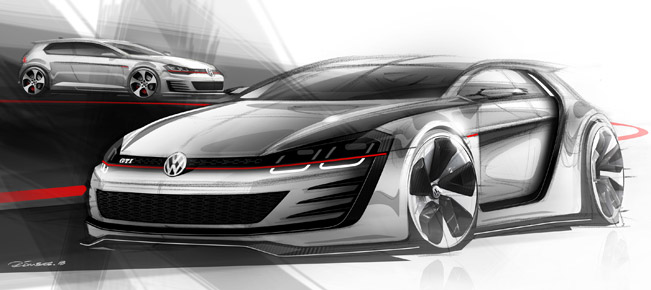 Volkswagen will premiere today its new Design Vision GTI Concept at the annual Wörthersee meeting. The model is based on the seventh-generation Golf GTI, but transfers the design and power potential of the iconic hot hatch to the world of racing.
Highlights here are the C-pillars and side sills which have been extended out as autonomous body elements. The consequence is that they now allow wider track and larger wheels. In addition, the Design Vision GTI has a long wheelbase and short front overhangs.
It is 4,253 mm long (15 mm less than the production GTI), 1,385 mm in high (57 mm lower than the road-going car) and 1,870 wide – which shows a 71 mm growth in width. These dimensions are reflected in the car's wide track: 1,595 mm at the front and 1,579 at the rear.
The car runs on unique 20-inch wheels and is equipped with ceramic brake discs. Many of the car's external design features: the honeycomb grille, black, red and white colour scheme and horizontal red line details also contribute towards the sporty stance of the vehicle. However, a particularly striking elemts is the headlamp unit in which the lights are set back as if into the bonnet.
Under the bonnet, Volkswagen Design Vision GTI Concept is powered by a 3.0-litre V6 TSI engine with direct injection and turbocharger. It generates 503 hp (370 kW) at 6,500 rpm and 560 Nm (413 lb-ft) of torque between 4,000 and 6,000 rpm. This amount of horsepower is channelled via a DSG gearbox to all four wheels. The result is effortless acceleration time from standstill to 62 mph in only 3.9 seconds.
How about the interior of this concept? Of course, it was designed with the aim of continuation of the sporty theme. It exhibits the minimum number of switches, and those which there are oriented towards the driver for maximum utilization when driving on the track.
What makes the car even more attractive is the familiar black, red and white color scheme, the touches of carbon and alcantara as well as a door handle in the shape of a red loop. In addition, the back seat space is occupied by an X-shaped cross member, while two black helmets are stored under the cross member.
At last, a large display on right of the main instruments serves as a display which shows the current circuit and times achieved. The display also communicates with other vehicles and calculates details about the current status of the race in real time.
Source: Volkswagen