Prindiville Electric Hummer Limited Edition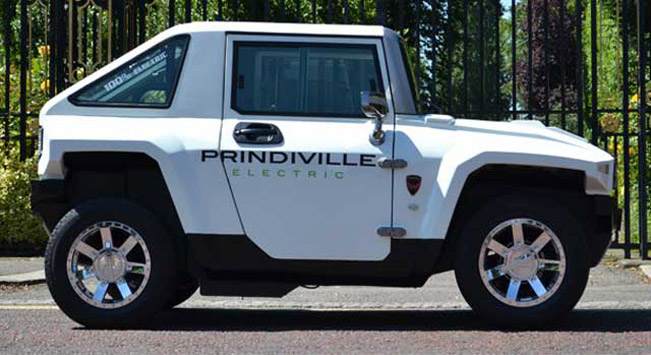 Prindiville Electric Hummer Limited Edition is UK's first customized luxury electric vehicle (EV). It is going to be produced in only 25 units. This EV has been designed for daily city commuter transport, commercial fleets, or businesses. In particular it was constructed on an intelligent lightweight chassis.
The Electric Hummer is powered by lithium-ion 72V drive system, which is linked to a two-speed transmission. The in-built drive system includes a fully integrated AC Brushless Motor powered by a lithium-iron phosphate battery pack for fast acceleration and a range of up to 60 miles (97 kilometres) on a full charge.
The ride comfort is provided by the fully adjustable four-wheel front and rear suspension, as well as adaptive rear drums and hydraulic front disc brakes.
The exterior of this model is in white-metallic and in addition includes carbon fibre detailing across the front hood storage compartment and flared wheel arches. The latter are flanked by the familiar chrome louver grille, steel plates, matt black window surrounds, and 15 or 18-inch alloy wheels.
Added safety comes courtesy of lockable double-skinned driver and passenger doors, and injection moulded LED front headlamps and rear taillights.
The interior on the other hand includes heated sports seats lined with alcantara and an elegant white trim.This is complemented by an LCD digital dash display indicating remaining battery power and speed amongst other key system functions, a twin cup holder, in addition to a Pioneer™ CD radio and MP3 in-car entertainment system complete with a slimline remote control.
The Limited Edition Prindiville Electric Hummer has a starting price of £25 000 or $40 000.
Source: Prindiville