Prior Mercedes-Benz M-Class Aerodynamic Kit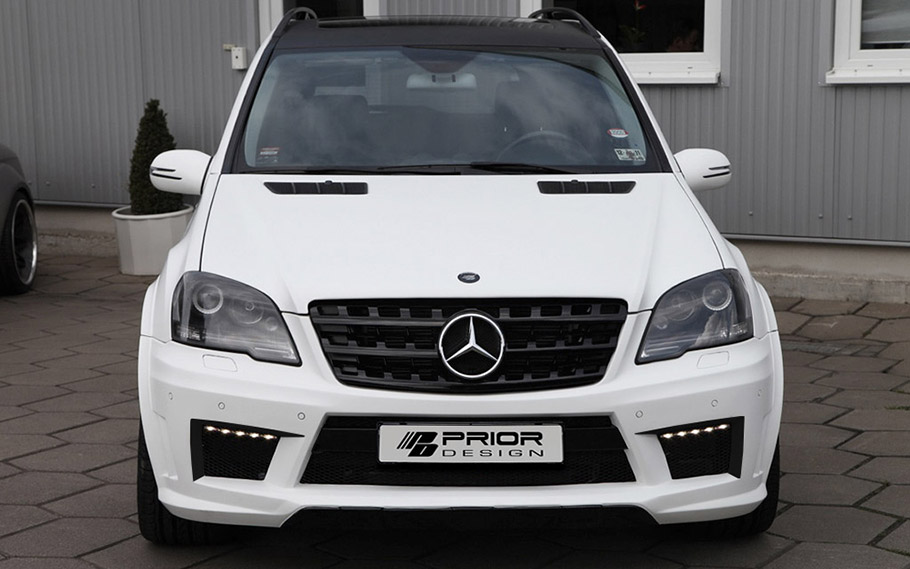 Prior Design seem to be in a very SUV mood considering the fact that they have released yet another program for an old-ish titan. Nor really that old actually – the Mercedes-Benz M Class W164 (the one made from 2005 to 2011). Does it look any different from yesterday's Range Rover? Well, granted that it is a Mercedes, it does but the Prior Design formula on it is basically the same.
Yes, you know it – a front bumper, side skirts a rear bumper and... mounting material. Not what we call thrilling. Okay, there's also a hood that comes along. Mind you, that's how things sound on paper. A quick glance at the gallery and we find that the end result is not that gray (it's white). Despite the add-on side skirts, the M-class has managed to retain a bit of it's ground clearance. The rear bumper blends seamlessly with the back fenders and wheel-arches while the front looks simply mean (this being an SUV, it should). There are of course LED daytime running lights. But they are optional. At the price of 329 Euros ($428), we recommend they stay that way.
As usual, all materials are made up of Dura-Flex Fiber Reinforced Plastic which is, as one might suspect, durable and flexible. No modifications on the stock Mercedes M-class whatsoever are needed.
Source: Prior Design