Project Visio.M Concept - the new electric mobility solution for urban environments
Project Visio.M Concept is an interesting project which will offer a solution for electric mass mobility in urban environments. The electric cars which are powered by electricity from renewable energy are one of the most attractive options for mobility in the future.
This not only concern long distance travel, but in fact the focus of this project is put mainly on mobility within the urban area.
In the history of the development of such technologies, the different approaches have lead only to vehicles which are either too expensive or too heavy. In addition to that they might not meet the mass-market safety requirements.
And here is where Project Visio.M steps in. It is a joint research project between scientists at the Technische Universitaet Muenchen (TUM) and engineers from the automotive industry (mainly from BMW).
Their aim is to develop electric concepts cars which are efficient, safe, and inexpensive. In addition to this the electric vehicles are very silent and more importantly have no emissions. This makes them one of the most important options for future individual mobility in the city areas.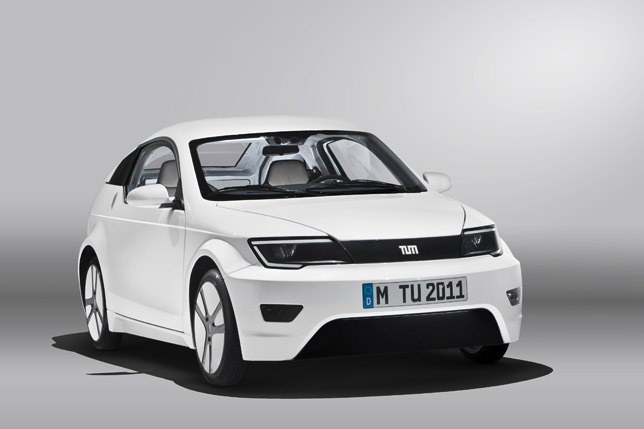 However, there are a lot of technical developments to be undertaken before this happens. For instance, small electric vehicles offer minimum level of safety. In addition, the models which are derived from gasoline-powered cars are usually too heavy and require large and expensive batteries.
Rroject Visio.M envisions to be a small electric vehicle, affordable and safe, and achieving the goal to share significant part of the mass market.
The information about this vision that we have is that this mobility concept will be powered by 15 kilowatts and will have a maximum curb weight of 400 kg (without battery). This will meet the requirements of the European regulatory category L7e.
The project is going to be built on the MUTE concept, developed by the TU Muenchen as their test carrier to explore innovations and new technologies for vehicle safety, propulsion, energy storage, and operational concepts for implementation under the framework requirements of large-scale production.
Most of the attention here had gone to the safety. Although this concept has a minimal weight, it is expected to have a level of protection equal to that offered by conventional cars with combustion engines.
Source: BMW