Vorsteiner 599-VX Custom Ferrari 599 Coupe
We've seen this (or something like it) before, but Vorsteiner say it's a completely new project – It's the 599-VX custom Ferrari 599. New or old, we couldn't say no to it. We really liked the fact that Vorsteiner have dropped the racing stripe and the numbering. The front grille also looks new (more meshy now).
They say that the aftermarket components act as a 70 percent lighter alternative to the original. That's supposedly due to the fact that all the body elements from Vorsteiner are made from carbon fiber at its best. The air-intakes, slashes and vents and so on are made to complement the Ferrari 599's Italian curves but they also strive for functionality. Then there are the 1-Piece Forged Monoblock wheels which are exclusively made for the 599. The type of coating and color is up to the client.
The unorthodox looking tailpipes at the back only hint that the whole exhaust system has been hand-crafted with performance and sound in mind. And a standard Ferrari 599 no doubt has what it takes to walk the talk – a 6.0 liter V12 aluminum engine body that produces 612 hp at the staggering 7600 rpm. Torque is almost just as much in Nm. It's quite understandable why Vorsteiner got only to the hood (those overt-the-top vents) and gave up there. There's simply no need to alter or add power.
Here's what the complete 599-VX program from Vorsteiner looks like:
• Front Bumper Integrated with Optical Carbon Fiber Chin Spoiler
• Louvered Race Hood with Carbon Fiber Optic Vents
• Carbon Fiber Side Sill Extension Blades
• Rear Bumper with Integrated Rear Diffuser Carbon Fiber
• Aerodynamic Deck Lid Spoiler Carbon Fiber
• 20, 21, or 22 inch Special Edition Forged Aluminum Multi Spoke Wheel
• Stainless Steel Race Exhaust System with Dual Race Tips Brushed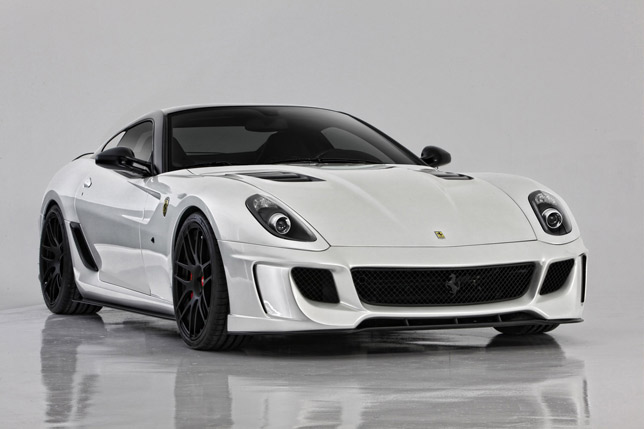 Source: Vorsteiner