Renault Alpine A 110-50 Revealed
Completely out of the blue, it's the Renault Alpine A 110-50 – a tribute to the original 1962 Alpine A 110 Berlinetta. A nostalgic DNA strain is clearly visible on the concept's design cues. Don't be fooled though – it's as modern as a teenager's mobile phone. The base for it is a Renault Mégane Trophy with minor changes in detail that make the difference.
The familiar bits can be seen on the bodywork – a slippery line, a reminiscence of the A 110 additional headlights (yellow LED arches), the 3D rear window, the air vents on the rear-wheel arches serve the same functions as the ones on the Berlinette – the rigt-hand one cools the gearbox while the left-hand one channels air to the engine bay.
The body is made from carbon fiber, the aerodynamic components (the front splitter, rear diffuser and back-wing) have been designed to give maximum downforce. The engine is now mid, instead of rear-mounted. Thus weight distribution stands at 47.8% on the front axle. The wheelbase is identical to that of the Megane Trophy but the track is slightly wider – 1,680 mm at the front and 1,690 mm at the back. Special 21-inch wheels with central bolts complement the whole look and are fitted with homologated Michelin tires.
The suspension is provided by Sachs and can be adjusted in terms of height and compression. Even, further, one can fiddle with the A 110-50's camber, anti-roll and alignment settings. What is again a throwback however, is the lack of ABS or traction control nonsense. Still, you do get 356 mm disc brakes with six-piston callipers at the front and 330 mm ones at the back clamped by four-piston callipers.
The engine is also taken from the Mégane Trophy – its the Renault V4Y block that has 3.5-liters of displacement, six cylinders in the V formation and 400 bhp. The moving bits have been replaced in order to fit the purpose – think in terms of pistons, connecting rods, crankshaft, camshafts and valve springs. Modifications on the intake and exhaust systems have also been made. (that gash on the roof is not really faulty welding, but in fact an air scoop).
For the transmission, Renault have put all their F1 know-how into work – a semi-automatic sequential box and a ceramic twin-plate clutch operated by either a pedal or a paddle behind the wheel.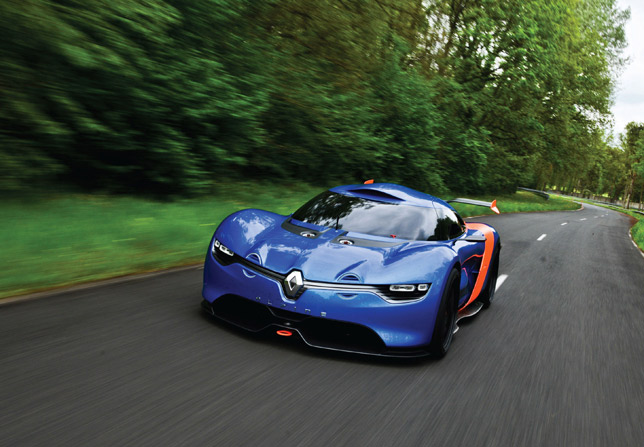 Here's a comprehensive list of specs:
CHASSIS
Type
Tubular 25CD4S steel chassis with semi-load bearing engine and gearbox
BODYWORK
Carbon

Aerodynamic

features Front splitter, diffuser, rear wing

ENGINE
Position
Longitudinal, mid-rear
Type
Renault V4Y – 6 cylinders – 24 valves – 3,498cc
Bore x stroke
95.5mm x 81.4mm
Injection/ignition
Magneti-Marelli Marvell 6R
Maximum power
400hp at 7,200rpm
Maximum torque
422Nm at 6,200rpm
Maximum revs
7,500rpm
TRANSMISSION
Type
Rear-wheel drive
Gearbox
Six speeds + reverse – sequential
Gear shift
Semi-automatic (pedal-operated clutch and paddle)
Differential
Limited slip differential
Clutch
Cerametallic twin-plate 184mm-diameter clutch
SUSPENSION & BRAKES
Suspension
Double wishbones, adjustable two-way Sachs damper/spring assemblies, front anti-roll bar
Front brakes
Ventilated steel discs (O 356mm x 32mm) with six-piston AP Racing callipers
Rear brakes
Steel discs (O 330mm x 32mm) with four-piston AP Racing callipers
WHEELS & TYRES
Wheels
Aluminium alloy - Front: 8 x 21 / Rear: 9.5 x 21
Tyres
Michelin 245-35 x 21 (front) and 265-35 x 21 (rear)
DIMENSIONS, CAPACITIES
Length/width/height 4,330mm / 1,961mm / 1,230mm
Front/rear track
1,680mm / 1,690mm
Fuel tank
30 litres
Kerb weight
880kg
Source: Renault