Renault Sport Gives Uk Debut To New Megane Trophy At Autosport International
Renault's New Mégane Trophy makes its UK debut alongside its hardcore road-going sister Mégane Renaultsport R26.R in a one-two that is guaranteed to wow the crowds at Autosport International, the world's biggest motorsport show, on 8th-11th January, 2009. The cars join the Clio Renaultsport Cup race car, Formula Renault 2.0 single-seater car and Clio Renaultsport R3 rally car as stars of the Renault Sport UK stand, which once again hosts a combined display with the Renault-backed Super One Karting series in Hall 6, stand 6210.
In addition to showcasing five of the finest road, race and rally cars, Autosport International marks the opening of registration for Renault Sport UK's three racing championships. The Formula Renault UK with Michelin Championship has produced back-to-back Formula One World Champions in the form of Kimi Räikkönen (2000) and Lewis Hamilton (2003), while the Formula Renault BARC Championship has established itself as the leading single-seater feeder series. The ELF Renault Clio Cup is the ever-popular one-make saloon-car championship that joins Formula Renault UK on the British Touring Car Championship support package.
New Mégane Trophy is the latest racing superstar produced by Renault Sport Technologies and will feature at World Series by Renault events in 2009. The UK round will be held on the Silverstone Grand Prix circuit on 4th/5th July. The Mégane's mid-mounted 3.5-litre V6 engine now produces a whopping 360hp at 7,200rpm, while rear-wheel drive and a six-speed sequential gearbox offer a superb racing package.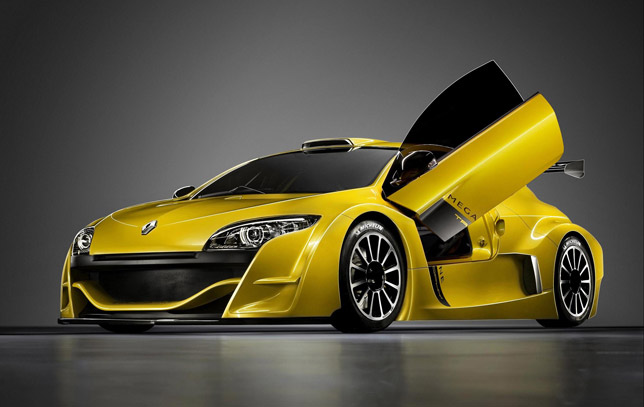 The limited-edition Mégane Renaultsport R26.R has raised the bar for hot hatches with its amazing performance level enabling it to set a new lap record for front-wheel drive production cars at the legendary 13-mile Nürburgring Nordschleife circuit. With a weight saving of 123kg over the Mégane Renaultsport 230 R26 and an accordingly revised technical set-up, Mégane Renaultsport R26.R is a truly astounding car. Only 450 will be produced with 230 of those destined for the UK market.
Clio Renaultsport R3 made its UK debut at the 2008 Autosport International show and returns in 2009 ahead of its debut in the British Rally Championship. Rising star Tom Walster will rally his Clio R3 Maxi in the six BRC events and has completed preparation of the car in order to unveil it at Autosport International. The 230hp rally car features a dedicated specification of the Clio Renaultsport 197 race car, with adapted wheels, tyres, suspension, differential and front and rear track making it an impressive, yet cost-effective, rally machine.
The champion teams of the 2008 racing season showcase their title-winning cars with CR Scuderia Formula Renault providing one of its Formula Renault 2.0 racers and Team Pyro displaying its Clio Renaultsport Cup race car.