Ringbrothers Shows Sketches of 980 HP Chevrolet Chevelle Ahead of SEMA Reveal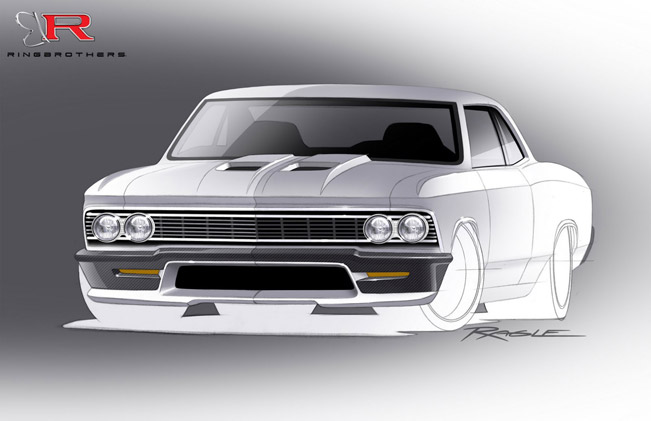 Ringbrothers are going to SEMA Show with unique Chevrolet Chevelle. They have released four sketches which give us the idea of what we are to see at the event. The car made back in the 1966 will now take a contemporary form and will benefit from the cool features the modern automobile technology can offer. In addition, the tuning company has also announced that the project will be dubbed "Recoil" and will blend the pure power of a race car with the sleek and detailed finish of a show car.
What is more, the Recoil project will be equipped with a Chevrolet's LS7 V8 engine, which pushes out 980 horsepower (720 kW) to the rear wheels. The unit is fitted with Whipple-supercharger and a custom Flowmaster exhaust system.
In addition, the customization specialists also said that the car has been renovated and features hand-laid carbon fiber panels and trim pieces. This Chevy Chevelle runs on modern HRE Wheels and there are also several other details just like the LED-lights.
Chevelle was introduced in 1963 and was created with the aim to compete with Ford Fairlane. It was offered in two-door hardtop coupe and convertible variants as well as four-door sedans and station wagons. Six-cylinder and V8 power was offered across the board.
In 1966, the Chevelle saw a complete restyle of the previous frame, which featured smooth contours, new grille and bumper as well as curved side windows. The engines offered back then were the 327-cubic-inch V8 and the mid-level 220 horsepower 283-cubic-inch V8 unit. Options included tachometer, mag-style wheel covers and sintered-metallic brakes.
Source: Ringbrothers