Roush and the Ford F-150
The Ford F-150 truck is a cultural phenomenon with 584,917 units sold in the US during year 2011 alone. Now the company is anticipating four new engines and ROUSH tuning house is not willing to stand and watch. Instead, both new Ford 6.2L and 5.0L V-8s will get a full supercharger kit while the other two new comers will get enhancements as well, all for the greater grunt.
First lets talk about the juicy stuff: 2.3L TVS R2300 superchargers featuring Eaton's new TVS Technology can be preordered and fitted to the V8 engines. Those massive turbos boast four-lobe rotors with high-flow inlet and outlet ports which basically allow more power at higher RPM. Other highlights include ROUSH's new cold air induction system, a 100 mm MAF tube (mass airflow meter), twin 60mm throttle body, a high efficiency intercooler system that incorporates a dual-core low temp radiator, degas bottle and high capacity air-to-water intercooler. A non-calibrated 5.0 Tuner kit is now available for order with the calibrated ROUSH 5.0 kit coming this february. The 6.2 non-calibrated one will be available sometime this month while the 6.2 calibrated ROUSH edition can be shipped no sooner than April.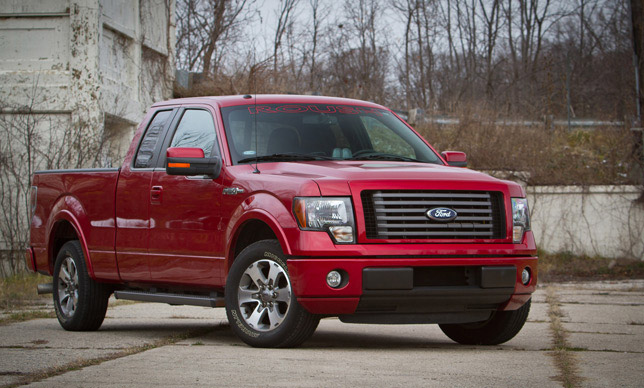 All four engines (that includes the 3.7 V6 and 3.5 V6) will get cold air induction system kits. In the V6 that translates into an open element upper air box, a washable high-flow air filter and a new MAF tube. V8 also get get that, plus a new clean air tube. Everything is carefully tuned and crafted with OE materials to meet F-150 factory standards. All kits are designed for easy installation requiring no drilling or cutting.
To wrap it up, ROUSH have thrown in a dual-tip, stainless steel, high performance cat back exhaust system. It fits virtually every engine/cabin/bed configuration. It allows air to go trough more smoothly and reduces back pressure which supposedly increases power and torque... and engine noise. The mufflers are made from high grade stainless steal smeared with specially applied (micro-porously) chrome that does not subdue to flaking or cracking under high temperatures.
By the time April comes around, all ROUSH performance parts should be ready for shipment so that newly acquired F-150 trucks wont have to roll the streets naked.
Source: Roush