Revolve Technologies announces new technical collaboration plans for future engine technologies
Revolve Technologies, formerly Roush Technologies, will use its debut appearance at Engine Expo in Stuttgart next week as the launch platform for its new formal collaborative technical partnership with Ford Component Sales and Swedish engine management systems specialist, Nira Control AB. The partnership between the three organisations has been established to bring to market a range of fully certified Ford diesel and gasoline engines, being developed and calibrated to meet the operating requirements of diverse and specialist applications across the automotive, marine, and industrial OEM sectors.
The first engine packages to be made available through the programme include a concept marinised Ford in-line 5-cylinder unit, being shown for the first time. Diesel engines, which will be announced at the show, will be introduced first – with gasoline variants following later.  Ultimately, the programme will cover a range of engines from 1.4 to 9 litres capacity, designed for compliance at Euro 5 for automotive applications – and the equivalent Tier 3 emissions level for industrial use.  The engine range covers in-line 4, 5 and 6-cylinder configurations as well as 6 and 8-cylinder 'V' options.
A particular feature of the programme is a new generation of Nira engine management systems designed to control a wide range of industrial and marine engines.  The Nira engine management systems are developed to meet current and future emissions legislation and are equipped with interfaces for control of CAN network components such as helm controls and instrumentation in a marine application.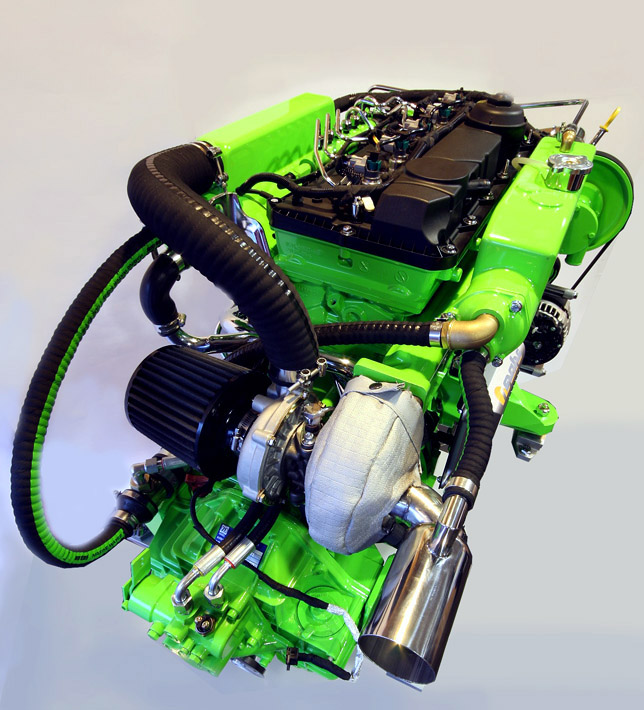 Revolve will also show examples of some of its other advanced engine programmes at the show.  These include its H2ICE hydrogen / gasoline bi-fuel programme – which demonstrates hydrogen as a practical, efficient and viable road fuel for current technology internal combustion engines - and a hybrid-electric power pack for buses.
Revolve Technologies' Executive Chairman, Andrew Williams says, "These programmes give further insight into the depth, scope and capability which Revolve Technologies is able to offer the market.  They are also excellent working in practice examples of the formal technical partnership between Revolve Technologies and Ford Component Sales (FCS) and Nira Control – and highlight Revolve's rapidly expanding engine calibration, specialist applications, hybrid and alternative fuels activity.  The company is currently involved with projects from small capacity, lightweight units right through to heavy commercial, marine and industrial applications."