Seat Ibiza FR Edition Powered By 1.4 TSI ACT engine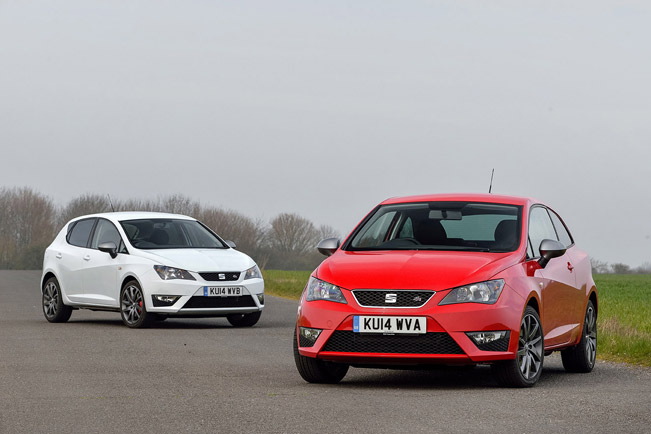 Seat Ibiza FR Edition has just been introduced. The car is powered by the new 1.4 TSI ACT engine, which has four cylinders, and uses less amount of fuel. The powerplant also helps the car accelerate from 0 to 100 km/h in under eight seconds, while the fuel economy is rated at 60.1 mpg on the combined cycle. In fact, the 140 PS ACT petrol engine replaces the 150 PS 1.4 TSI non-ACT engine in the Ibiza range, thus delivering superior efficiency, and 30 g/km less CO2 – down to 109 g/km.
The unit is mated to a manual transmission only. As a matter of fact, the Ibiza FRs which utilize the ACT engine sit above the standard FR in the Ibiza range. Furthermore, the usual FR specification adds red seatbelts, red brake callipers, titanium-coloured 17-inch alloy wheels, matching coloured door mirrors, climate control and dark tinted rear windows.
1.4 TSI engine uses an Active Cylinder Technology, which shuts off the second and third cylinders at low engine speeds and when low torque outputs are required. It does so seamlessly, and conversely it will re-activate the cylinders in unnoticeably when more torque is required. The transition between two- and four cylinders takes less than 40 milliseconds, and the system can save up to one litre of fuel over 60 miles of careful urban driving.
Seat Ibiza FR Edition is available in SC and five-door body styles. On the other hand, the 1.4 TSI ACT is available in standard FR trim in all three body styles: SC, five-door and ST.
Source: Seat