Seat Mii Ecofuel Shows Perfect Efficiency In Geneva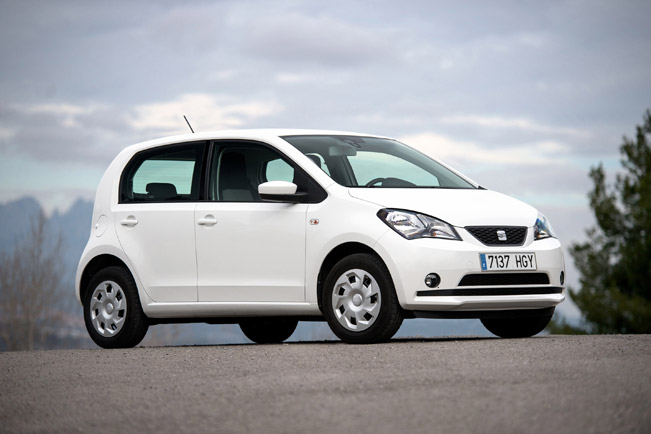 Seat Mii Ecofuel adds to the Mii family being company's lowest-emitting production model ever. This Seat model runs on compressed natural gas (CNG) and this means that it bringing excellent efficiency and running costs without sacrificing the outstanding performance.
In fact the Seat Mii Ecofuel is the first Seat model to include CNG engine and in addition it will make a debut at the Geneva Motor Show. To go further into details, the Mii Ecofuel has an average consumption of just 2.9 kg CNG/100 km.
Under the hood, the model hides a 1.0-litre 68 hp (51 kW) unit based on the three-cylinder petrol engine known from Mii (with 60 hp and 75 hp outputs), but it has been developed for CNG operation. Its CO2 figure of just 79 g/km is best-in-class. The engine is lightweight and high-revving and has a maximum torque of 90 Nm (67 lb-ft) at 3,000 rpm.
The ECU here also handles the management of the gas injector valves and the electronic gas pressure regulator. In addition, the engine control unit utilizes a lambda sensor to recognize the different qualities of 'low gas' and 'high gas'. When running on low gas, which has a lower calorific value due to its lower methane content, injection timing is adapted to suit.
Furthermore, although this unit has being specifically engineered to run on CNG, the Mii Ecofuel engine can also run on unleaded petrol. With a full CNG tank (11 kg), the Mii Ecofuel has a range of up to 240 miles; the reserve petrol tank extends the range by up to 140 miles. The result is that with a full tank the engine has a total range of up to 380 miles.
Of course, there is a special fuel level indicator on the instrument panel, which gives information about the level in both the gas and the petrol tank. The ranges available in both operating modes are also shown in the multi-function display.
The exceptional low fuel consumption and emissions figures of the car are achieved through standard fit fuel-saving Ecomotive Technology, including a Start/Stop system and a Brake Energy Recovery system. The kerb weight of the model - 956 kg, the good aerodynamic characteristics and an efficiently matched engine/transmission combination also contribute to those exceptional figures.
Eventually, the Mii Ecofuel will be introduced in Germany, Italy, Austria, Switzerland, the Netherlands, Sweden and the Czech Republic, and will have an entry price of €12 050.
Source: Seat