Sebastien Loeb with Peugeot 208 T16 hits Pikes Peak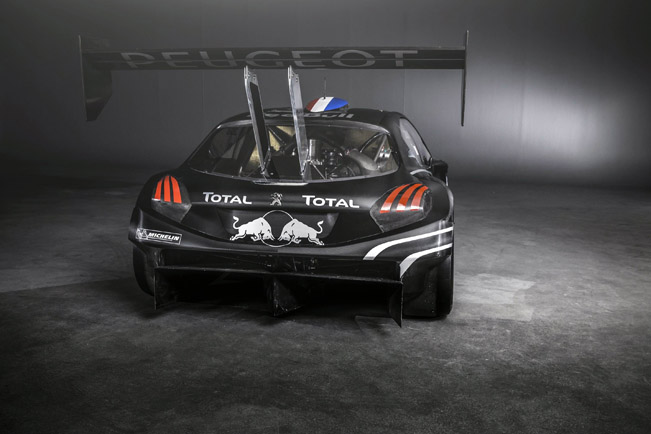 Peugeot has published a new footage on Youtube showing Sebastien Loeb testing the super-fast 208 T16 Pikes Peak.
The Loeb's Red Bull-sponsored 208 T16 will take place in the Unlimited Class, which means that it will be astonishingly fast. Powered by a twin-turbocharged 3.2 liter V6 with whopping 875HP (652 kW), the small racer is able to accelerate 0-100 km/h in an almost unbelievable 1.8 seconds and 0-200 km/h in 4.8 seconds. The 240 km/h mark is reached in 7 seconds.
"I've never driven anything that accelerates so fast!", commented Loeb.
"In the lower gears, a Formula 1 car doesn't deliver maximum power. With the Peugeot, though, it's bang, bang, bang as you move up the box from standstill. Thanks to its four-wheel drive transmission and turbocharged engine, its pull-away performance is phenomenal! You find yourself in sixth gear at 240kph in no time at all!", said the professional race driver
Check out the full specs below!
httpж://
Peugeot 208 T16 Pikes Peak – Technical Specification
Type V6 bi-turbo Cubic capacity 3.2-litre petrol engine Number of valves 24 Position Mid-rear Number of cylinders V6 (60°) Maximum power 875hp Torque 90mkg Maximum revs 7,800rpm Top speed 240kph / 150mph 0-100kph / 0-62mph 1.8s 0-200kph / 125mph 4.8s 0-240kph / 150mph 7.0s
Type Four-wheel drive Gearbox Longitudinally-mounted six-speed sequential gearbox with steering wheel-mounted paddle-shift
Frame Tubular steel Bodywork Carbon
SUSPENSION / BRAKES / STEERING
Suspension Double wishbones & pushrod/rocker arm actuation at all corners Springs Torsion bars Dampers Pressurised dampers Anti-roll bars Front and rear Steering Hydraulic power steering Brakes Hydraulic double circuit brake system with one-piece light alloy callipers Brake discs Vented carbon discs front and rear Diameter (front): 380mm / Diameter (rear): 355mm Wheels Specific 18x13 magnesium alloy wheels derived from F1 technology Tyres Michelin (31/71x18)
Length 4,500mm Width 2,000mm Height 1,300mm Front / rear overhang 1,690mm Wheelbase 2,695mm Wing 2,000mm (based on the rear wing of the Peugeot 908) Fuel tank 40 litres Weight 875kg
Source: Peugeot