Skoda Citigo 5-door World Debut at Geneva
The 2012 Geneva Motor Show will no doubt bring excitement to all rubber-burning, rev counting motoring enthusiasts. But a motor show isn't a genuine one without some space for practicality and sensibility. That is why Skoda is world premiering the 5-door Citigo sub-compact car there. It's a boxy little thing that is designed to be simple, neat and easy to live with.
Power, which isn't much, comes from a 3-cylinder, 1.0 Litre petrol engine and amounts to 44 kW/60 hp or 55 kW/75 hp. (power variations of the same engine).In its most eco-friendly form, the Green tec variant, the new Citigo achieves 4.1 l/100 km or around 69 mpg. CO2 emissions in the new Skoda are just bellow 100g/km. In the world of today, the Citigo makes a lot of sense as it counters fuel prices, congestion and overall vehicle expenses.
If one does think about it, the Citigo doesn't need power in excess as it hasn't got a big bulky body and a handful of luxuries to carry around. Skoda say that inside it is as roomy as possible but how roomy can that be? The features listed as "ingenious" include net holders, a photo/document holder and a bag hook on the glove compartment – hardly technical innovations. But while the Citigo lacks luxury flash, it does make up for it by being a proud holder of a 5 star Euro NCAP safety rating. So this is what the Citigo really is - "simply clever" and no more.
At its home market this member of the Skoda family has recently become the Best City Car in the largest Czech automobile poll, the Car of the Year 2012. Now the company is aiming at broadening it's market outside of the Czech Republic. It is all part of an overall growth plan that will hopefully culminate in 2018 when Skoda annual shipments reach the 1.5 million mark. City cars such as the Citigo are the backbone of every successful company which produces great cars for all kinds of people.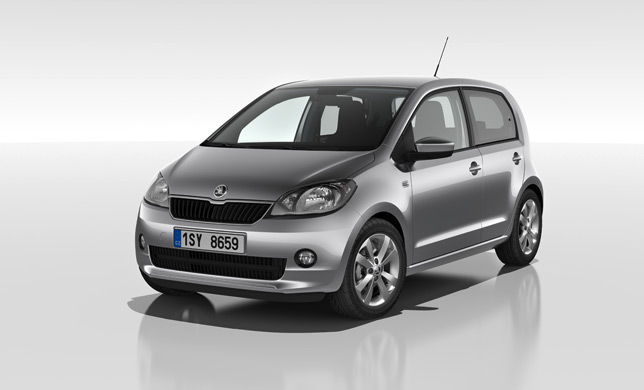 Source: Skoda