speedART To Refine Porsche Macan [TEASER]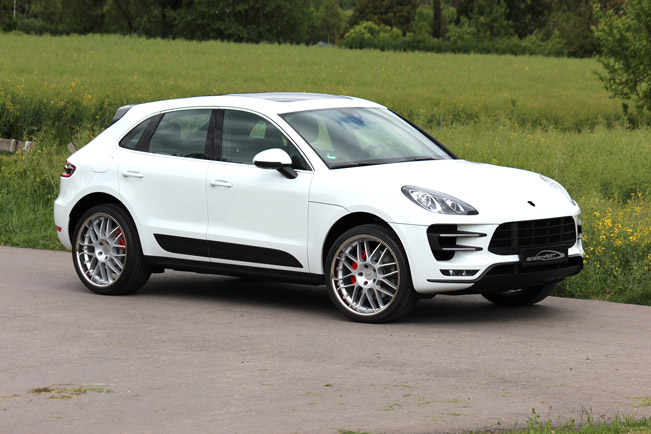 2015 Porsche Macan is regarded as the most sportive SUV on the market. speedART has released the first image of its upcoming project which involves exactly this vehicle. The specialists are currently working on a wide range of tuning parts and modifications for that model. The picture that they have sent us is just a preview of what we are to expect. Other tuning innovations will follow very soon. speedART didn't reveal much but that it is going to add to the Macan a new power kit, sport exhaust system, wheels, body parts and of course - exclusive interior.
The details so far are scarce but we are almost sure that the modification on the engine will be done on the entry level Porsche Macan. It is powered by a four-cylinder 2.0 liter turbocharged petrol engine with 241 horsepower (177 kW) and 350 Nm (258 lb-ft). The unit is coupled with a PDK dual-clutch gearbox.
The 0 to 100 km/h acceleration time is now 6.9 seconds. And we are wondering what it will be after speedART's tuning. The Macan can be recognized with its dual exhaust arrangement as opposed to the S and Turbo variants which make use of quad pipes. As mentioned we are also expecting to see some changes here.
At the moment, from the image we have received we can see huge 18" or 19" silverfish eight-douple-spoke alloys fitted with low profile tyres. Behind them are the contrasting brakes. Stay tuned for more details in the following weeks!
Picture Source: speedART