Star On Wheels: XXX-Performance Audi R8 5.2 FSI quattro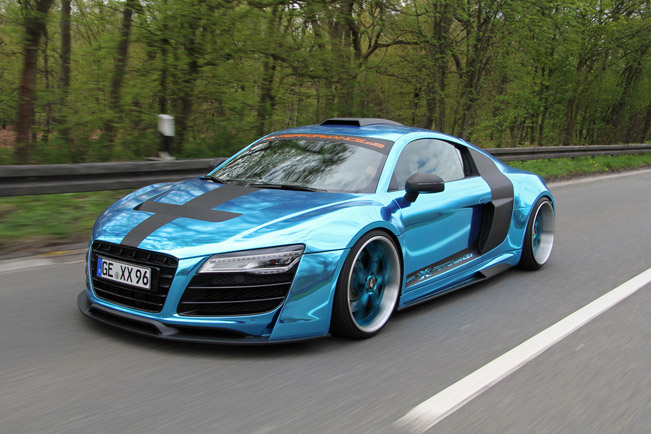 XXX-Performance is already familiar to the automotive world with their interpretation of the bright-green Audi R8. Now the tuning specialists are releasing their second project: an extravagant and exclusive wide body Audi R8.
To be more precise, the wide-body kit it was equipped with is the aggressive GT-X650 which features broad mudguard, stone deflectors and sill-board. Some of the unique elements in the kit include air inlets in the front and rear mudguards and huge openings of the exhaust pipe-end.
Optionally, for this project there are available attached parts such as external rear-view mirrors, roof scoops, side blades and rear diffusers made of carbon fibre. This Audi was entirely wrapped in blue CFC chrome wrapping.
Furthermore, the XXX-Performance has added Audi-Plus full LED headlamps and tail-lamps which also contribute towards the aggressive and sporty stance of the car. In addition, the H&R coilover kit was converted by the tuners from steel springs to air bellows. This simply results in lowering.
The transformed R8 runs on three-part GTR Forgiato forged wheels in the dimensions 9x20 inches and 13x20 respectively for the front and the rear. They are matched with barrel-type 235/30 and 325/25 Hankook tyres.
What is more, the tuning of this vehicle also includes performance-boosting. Via chip-tuning and carbon air-box and also other additional modifications, the V10 gets an end performance output of 650 hp (478 kW). The loudness of the acoustics of the exhaust system can be regulated with the utilization of a valve control system. When the valves are open, the V10 roars out loud.
Going further to the interior, this sportscar is wrapped in real leather and feature some carbon elements and high-grade Alcantara. For instance, with the latter material are covered the centre console, instrument panel, door sheathing and roof liner.
Source: XXX-Performance