Steel Grey Stealth Fighter: Schwabenfolia Mitsubishi Lancer Evo X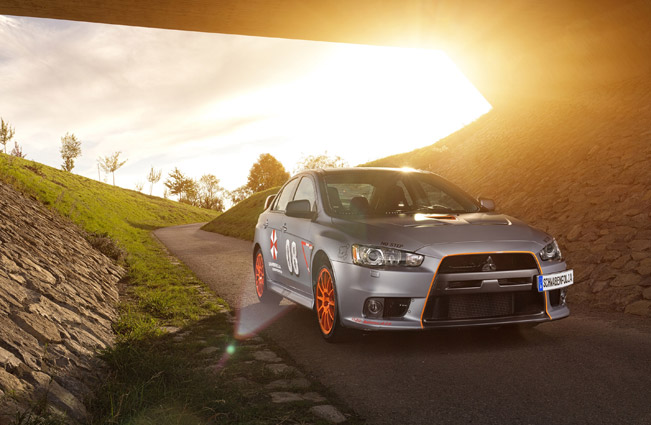 Schwabenfolia Mitsubishi Lancer Evo X or the Steel Grey Stealth Fighter is an exceptional tuning! Originally the Evo X has a two liters displacement which generates 295 horsepower equal to 217 kW.
The tuned Mitsubishi now has an enhanced performance to wide-awake 390 horsepower (287 kW) and 520 Nm (384 kW) of maximum torque. They are possible thanks to the Turbo - back installed 3" exhaust system from Invidia, named Q300.
In addition, this incredible amount of power is forwarded on the road by means of Yamato-rims in 18 inch by Enkei, on which Michelin Pilot Sport Cup Semi-Slicks are installed.
But the customization does not stop here. The original white exterior color of the Evo X was foiled with painstaking work theme foliation. Hence it got the nick-name the Stealth Fighter. In addition, the front grid frames, the air intake of the bonnet and the sides of the impressive rear spoiler shine in Toxic Orange Metallic.
On the other hand, the middle part spanning the trunk lid and the roof with indicated emergency hatch in matt red are kept in Black Brushed Steel. What is more, in the middle of the vertical part of the tailgate a raised Hello-Kitty-AK47 can be seen.
Above and behind the headlamps one can see notes, as well as additional labelling on the doors. Additionally, there is also added an advice on the fuel cap and on the back "corners" of the vehicle, and "warning" next to the exhaust. At last the 300 adhered "screw heads" is what catches the attention immediately.
Source: Miranda Media