2014 Subaru Forester Crossover Unveiled Ahead of Official Debut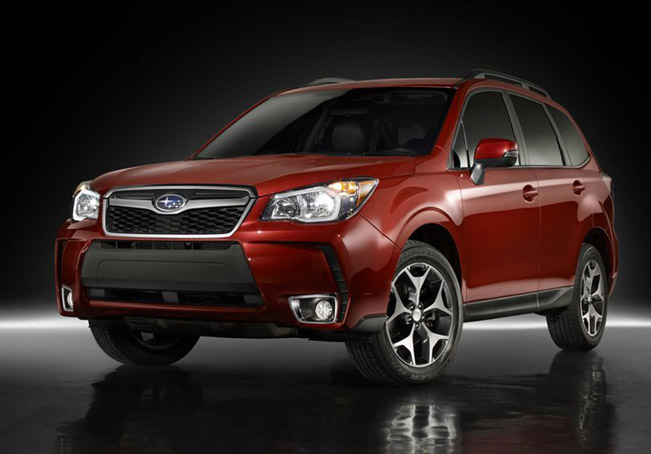 2014 Subaru Forester Crossover has just been unveiled with a teaser image ahead of its official debut at the Los Angeles Auto Show. The new SUV now offers bolder profile, more spacious interior and a purposeful stance.
As a matter of fact this is the fourth generation of Subaru's popular Forester. It will be equipped with 2.0-liter direct-injection turbocharged BOXER engine which generates 250 horsepower (184 kW) and 350 Nm (258 lb.-ft.) of peak torque. The naturally aspirated 2.5-liter BOXER engine comes as a standard and will offer higher fuel economy due to the new six-speed manual transmission and available Lineartronic continuously variable transmissions (CVT).
The other engine option is the naturally aspirated 2.5-liter 4-cylinder BOXER, which develops 170 hp (125 kW) and has a 235 Nm (174 lb.-ft.) of peak torque. Here the transmissions are again the 6-speed manual or Lineartronic CVT one. All models, equipped with the 2.0-liter turbo engine will include high-torque CVT with 6-speed and 8-speed manual modes and Hill Descent Control.
The crossover preserves the optimal blend of SUV capability and car-like ride and handling that have made the Forester one of the Subaru brand's best-selling models for the past 15 years. However, the new suspension system is refined and delivers agile handling and a highly compliant ride quality.
In addition, the spaciousness is ensured by the increased rear seat legroom and an enlarged cargo area. Optional infotainment features will be offered, including smartphone integration, navigation, rear view camera and harman/kardon premium audio amplifier and speakers.
Source: Subaru