2014 Subaru Forester First Vehicle To Ace IIHS Safety Test [VIDEO]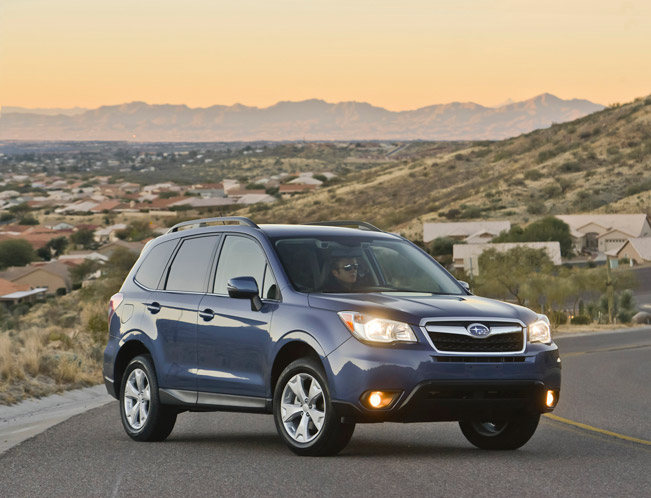 2014 Subaru Forester has just received a Top Safety Pick+ (TSP+) award from IIHS (Insurance Institute for Highway Safety). In fact, this is the first vehicle to ace every aspect of the front crash test and is the only (from 13 other vehicles) to earn an overall rating of good in the test.
Being entirely redesigned and reengineered the new Forester proved that it now can deliver improved protection for people in cases of frontal crashes. This award is first for the model so far and the brand expects to achieve more success in the future.
2014 Forester is equipped with 2.0-liter direct-injection turbocharged BOXER engine which produces 250 horsepower (184 kW) and 350 Nm (258 lb.-ft.) of maximum torque. As an option, the naturally aspirated 2.5-liter 4-cylinder BOXER is at hand, delivering 170 hp (125 kW) and 235 Nm (174 lb.-ft.) of peak torque. Both units are matched to a six-speed manual transmission as a standard or can be coupled with the available Lineartronic continuously variable transmissions (CVT).
In addition Subaru is the only manufacturer with 2013 IIHS Top Safety Pick for all models and the only company with IIHS Top Safety Picks for all models for four years in a row. As a matter of fact, 2014 Forester is the third Subaru to receive the TSP+ award. Right next to it stand the 2013 Subaru Legacy and the Subaru Outback.
In general, the conducted crash test proved that safety is one of brand's major principles. The Forester is the most award winning small SUV in America and with this award Subaru have another designation for this venerable vehicle.
Video Source: YouTube
Source: Subaru