Subaru Launches 2015 WRX STI in Japan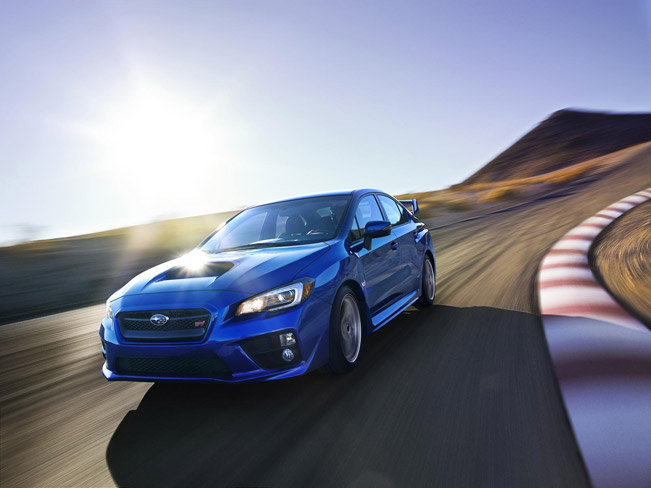 2015 Subaru WRX STI has already made its market debut in Europe. Now it is time for the model to go on sale in Japan. The car embodies the WRX series product concept "Pure Power in Your Control" at the highest level. In fact, the WRX STI is the flagship model of the series and every component of it has been upgraded. As a standard this Subaru is equipped with the turbocharged 2.0-liter Boxer engine and multimode Driver's Control Center Differential (DCCD) system.
"Pure Power in Your Control" concept aims to embody the "absolute speed" and "driving excitement" for sports sedans and also to emphasize the potential of the turbo Boxer engine. The car also has lighter and more rigid body, integrating extensive chassis reinforcements.
Furthermore, symmetrical AWD-based chassis and body performance has been improved and uses optimally the Horizontally-Opposed turbo engine. Through precise tuning, the engine generates 308 horsepower (227 kW) at 6,400 rpm and 422 Nm (311 lb-ft) of torque at 4,400 rpm. The unit is coupled with reinforced six-speed manual transmission with short throw shifting.
In terms of safety, this Subaru includes Symmetrical AWD, lighter and more rigid body and an enhanced chassis incorporating the Vehicle Dynamics Control (VDC) system. Next to the collision-absorbing structure used for the hood and bulkhead, the same material has been applied to the engine compartment side for increased pedestrian protection.
The Japanese specifications for the WRX STI include 18-inch alloy wheels which were designed to be more rigid and lighter. In addition, LED lighting is employed for the headlights, tail and brake lights and high-mounted brake light. "STI" letters are embossed on the exterior parts such as a front grille and front fenders. The two exterior paint finishes available here are the WR Blue Pearl and Crystal White Pearl.
Inside, the driver's seat is designed to be like a cockpit. 2015 WRX STI also gets a D-shaped steering wheel, decorative carbon trim panels and metal trim accents arranged around the interior. Red accents on seats, shift lever and center of instrument panel are exclusive features for the WRX STI. The interior is solid black from roof to floor and of course is made via quality materials that are soft to the touch.
Source: Subaru