Subaru Levorg Concept Debuts at Tokyo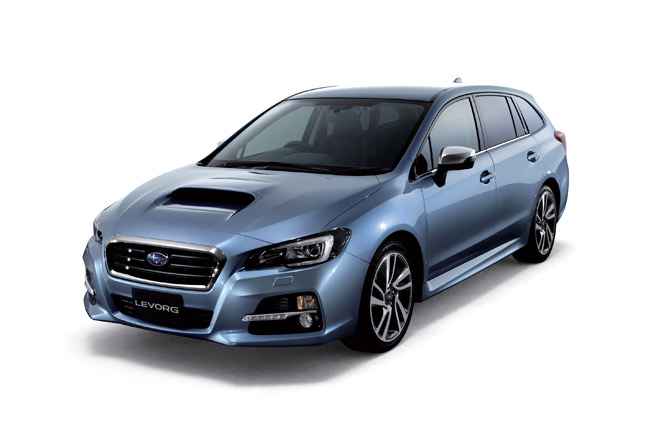 While the audience at the 2013 LA Auto Show are oohing and aahing at the new WRX, Tokyo gets to see a different Subaru product. It's the world premiere of the Subaru Levorg - a concept with quite possibly the daftest name in the game. It (the name) is actually a combination of three words: "Legacy", "Revolution" and "Touring". Who would have thought? Still not in production, the completed version is expected on the spring of 2014.
It's always an important car when something within it makes a debut. This time, it's Subaru's 1.6 BOXER direct-injection turbo (DIT) engine. That translates into 168 hp and 184 lb-ft of torque. If you find that insufficient, you can always go for a 2.0 BOXER DIT that boasts 296 hp and just as much lb-ft torque.
You won't be able to choose your transmission though. As standard, the Levorg is stuck with Subaru's Lineartronic CVT. That, plus Subaru's Symmetrical All-Wheel Drive system and Active Torque Vecoring, make for the perfect driving experience.
To keep you out of trouble, the Levorg engineers have also provided something called Hazard Avoidance Assist which scans for possible collisions and provides steering assistance accordingly. An even more complex-sounding system is the Pre-Collision Reverse Throttle Management. It basically prevents you from doing 60 mph in reverse gear. Ultimately, if you feel that driving as a whole is too much of a bother, you can trust Subaru's updated EyeSight driver assist system that incorporates a clever cruise control programme, Pre-Collision Braking Control features and Active Lane Keep System.
In terms of comfort, the Subaru Levorg features high quality materials and a rich design, with piano black and metal trim accents throughout the cabin. The instruments light up in an icy-blue color while technical data is being fed through the 3.5-inch LCD between them. Should you still feel sceptical about the Levorg's sporty pedigree, even after having seen all of the above, there's a D-shaped steering wheel sitting right in front of you. Grip it and go.
Source: Subaru