Superb Reverses Into Another First Place
The new Skoda Superb has added another award to its already impressive collection in the form of Sky Motoring's Best Gadget honour.
Skoda's innovative Parking Assistant beat off opposition from BMW and Renault to scoop the honour in the motoring website's annual awards. Sky Motoring's judges praised the Superb's Parking Assistant system for its ease of use and commented. "It sounds destined for a slot on 'It'll never work', but we tested it several times and, shock horror, it actually works."
The system is available as an option on all Superb models and works by using a set of ultrasonic sensors placed at various points around the car. These judge whether a space is big enough to be parked in, and also assist in the parking manoeuvre itself.
Once the sensors have detected the space, all the driver needs to do is engage reverse, remove his or her hands from the steering wheel, and control the speed of the car as the system as they would normally. The system steers the car into the space, informing the driver of its progress via the display on the stereo or satellite navigation system and the rear parking sensors. The system costs from £350 as an option.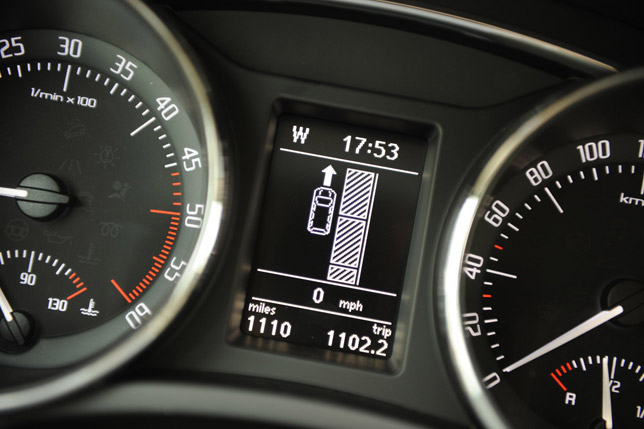 And it isn't just the Superb's self-parking system that gadget lovers should take note of. Among the many high-tech features introduced on the new Skoda flagship model is a new AFS Adaptive Front-Light System. By changing the geometry of the light beam according to different driving circumstances, the Superb's headlights always illuminate the section of road that's most important. For example, in Urban mode, the beam is short and wide, lighting up the pavement and junctions for increased visibility. Conversely, in Motorway mode, the beam is long and narrow giving a great view of the road ahead. The system is fully automatic and is triggered by road speed.
Prices for the new Superb range start at £15,165.