2013 Tata Xenon Pick-Up Unveiled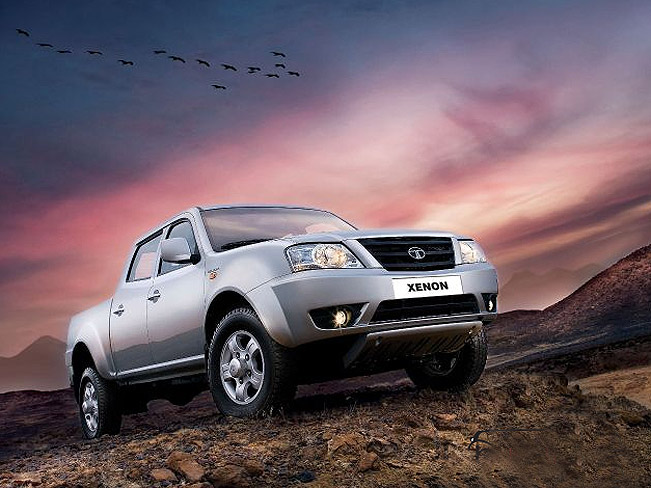 Tata has just launched the new 2013 Tata Xenon Pick-up. The vehicle will be offered in both single cab and dual cab versions, conveying it's with best-in-class visual appearance and at the same time operating fuel efficiently.
The power of this Pick-Up comes from its 3.0 Litre Common Rail or Turbo Direct-Injection engine, which deliver respectively a top speed of 120 km/h with peak power of 72 hp (53 kW) in the single cab and 115 hp (85 kW) in the dual cab, with a peak torque of 223 Nm (164 kW) and 300 Nm (220 kW).
Furthermore, the new Tata vehicle will deliver its customers best-in-class fuel efficiency because of its exquisitely engineered drive train. The Tata Xenon's engines has a flat torque characteristics, and overdrive gearbox, radial tyres and the aerodynamic shape, which all contribute to high fuel efficiency.
To go further into details, the Tata Xenon single cab variant offers the longest-in-class body length of 8'4 inches. In addition to this it offers considerable loading height, 3-side drop load body which makes ease day-to-day operations.
The pick-up comes with 2-stage semi elliptical leaf in the rear suspension, which delivers good load carrying ability, with better ride comfort and handling. The single cab is also equipped with power steering, adjustable steering column and cushioned bucket seats in the front with adjustable lumbar support.
Next, the Tata Xenon dual pick-up model with fully-loaded features like HVAC, power windows, central locking, seats with lumber support, high-end cab trims as standard fitment. In addition, it is equipped with limited slip differential, which resists wheel spin on gravel or muddy roads.
All this contributes to a better control of the vehicle and makes it perfect for off-track usage. The stylized load body further enhances its visual appeal. The vehicle is targeted for applications involving both crew and cargo movement in a comfortable and safe manner.
Some of the safety features included here are the unique 3-layered body construction, crumple zones, a collapsible steering column, central locking, retractable seatbelts and side intrusion beams. They protect occupants in an event of a side impact collision.
For this range of pick-ups there are four trim colors available: Arizona Blue, Mineral Red, Arctic Silver, Arctic White.
Source: Tata