Tesla Model S: Deliveries Start on the 22nd of June
The Tesla Model  S is as ready as it can be and the company, which is rather ahead of schedule, is pleased to announce that deliveries will start happening on the 22nd of June. The Tesla Model S is an all-electric, rear-wheel-driven, four-door sedan that brought along a lot of commotion when it was first announced.
It's one of the most sizable EV of its time with a wheelbase of 116.5", an overall length of 195.9" and a front track width of 65.4". Inside you get loads of head room, rear legroom, front leg room and luggage capacity – 28.7 cubic feet at the back and 8.1 cubic feet at the front.
There will be a standard range simply called Model S which will have two sub-options: Model S and Model S performance. Then there will be a Model S Signature range (limited) that also has a "standard" model an a performance version. The cheapest one you can get is the 40 kWh Model S – $49,900. The 85 kWh Model S Signature Performance is prices almost twice as much ($97, 900). That's a hefty price to pay for a bigger battery pack, 21-inch wheels, some Nappa leather and carbon ornaments. Well yes, you do get also an active air suspension and a sporty traction control but will the Tesla S be able to walk the talk?
According to the figures, chances are it can – The Model S Performance has a time of 4.4 seconds on the 60 mph sprint. The claimed top speed stands at 130 mph while at 55 mph the estimated charge range is 300 miles. Afraid about the diminishable life of batteries? Worry not as all 85 kWh packs have an 8 year/unlimited miles warranty.
George Blankenship, Vice President, Worldwide Sales and Ownership Experience want's to point out other highlights as well. The Tesla Model S, he says, is widely customizable – the regenerative braking can be either smother or more efficient on request, the power steering can also be adjusted within the options Comfort, Standard and Sport and the suspension can lift up the car high enough to cover spiky rocks and pestering speed bumps, or lower the Tesla so that you get maximum efficiency.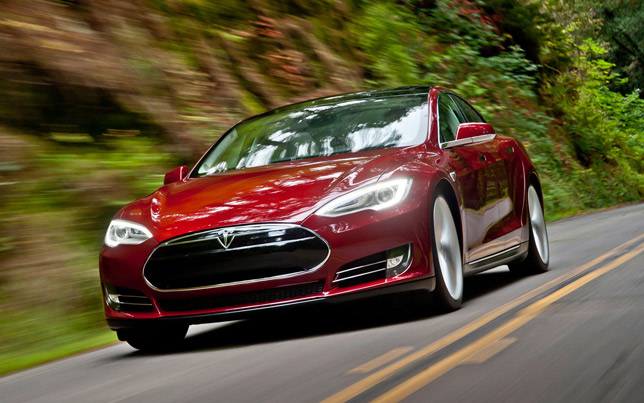 Source: Tesla Motors