The All-new Mazda2: Technologically Advanced, Interiorly Rich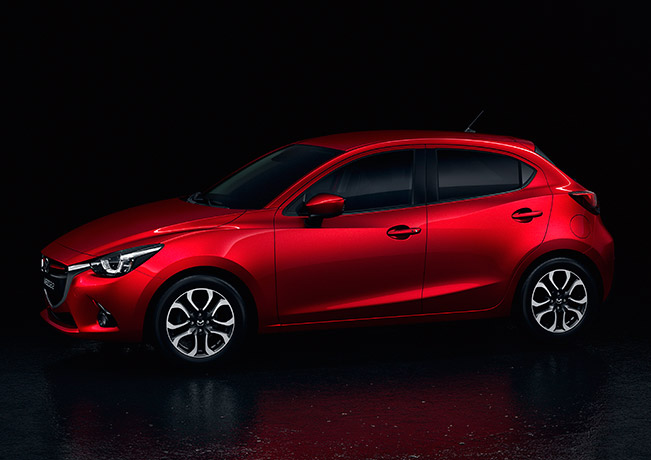 The all-new Mazda 2 is designed to bring comfort and absolute driving experience. Now SKYACTIV Technology and the "KODO – Soul of Motion" design theme have decided to work together and transform Mazda's qualities into even more class-beating and sophisticated characteristics.
KODO is renowned for its outstanding and dynamic refinements which it works on a car. With its defining design philosophy, it brings powerful stance, determine bodylook and strong expressions that strike the heart. The characteristics of Mazda2 are now conveyed with a better attitude and presence which is stronger than ever before. Like other KODO-based Mazdas, this model also features the signature wing Mazda grill and aggressive, carnivore-like headlamps along with highlighted character lines and rear-leaning cabin. There is also a slightly longer wheelbase. The car can be purchased with 15 and 16-inch aluminum or 15-inch steel wheels. This is the first Mazda that has four-lamp LED design that accompanies the dynamic round signature of the low-slung headlamps. The latter contribute to the U-shaped signature of the horizontal combination taillights.
The SKYACTIV Technology establishes a perfect balance between economy and performance. The engines and transmissions are properly upgraded for this particular size of car. The body and chassis are given the strongest and most cohesive enhancements which provide with the best ride quality and smooth responsiveness. In terms of safety, the all-new Mazda2 is equipped with a progressive high-tech innovations like the MZD Connect in-car connectivity concept and i-ACTIVSENSE active safety systems which answer the requests of the modern-day drivers.
Superminis are known for their economy, affordability, safety, rich equipment and their easy-to-be-driven mode. All of these are presented one level up on Mazda2 thanks to KODO enhancements. The all-new Mazda2 is the fourth Mazda model which has been given a KODO – Soul of Motion design. The cabin is crafted to seem more spacious and brings a feel of being more practical and convenient too. Thanks to KODO refinements, the position of the pedals along with the seats and steering wheel adjustments there is enough space for taller drivers too. Limit is not a word that features KODO's dictionary. Finally, the upgraded Mazda2 includes an innovative human-machine interface (HMI), Active Driving Display and seven-inch touchscreen, updated Mazda2 navigation system and more.
The Mazda2 comes with SKYACTIV-D 1.5-liter engine which has low compression, great torque and excellent fuel economy. The output is that of 105hp (77 kW) at 4,000 rpm and 220 Nm at 1,400-3,200 rpm. The fuel economy and CO2 emissions are estimated at 3.41/100km and 89g/km. SKYACTIVE-G 1.5-liter is available for the smaller packaging of the all-new Mazda2 in three variants. It has highly competitive fuel economy and CO2 emissions of 4.7l/100km and 110g/km (with five-speed SKYACTIV-MT manual gearbox).
It is officially scheduled for launch in Europe in five-door hatchback version in early 2015.
Source: Mazda