The World's Best Drivers And Riders Gather At The Goodwood Festival Of Speed To Entertain The World's Best Dads
With Father's Day just weeks away (Sunday 21 June), Goodwood is encouraging all good sons and daughters to show just how much they appreciate their dad, by treating him to a visit for this year's Festival of Speed, being held at Goodwood House from 3-5 July.
The Festival of Speed is firmly established as the world's biggest celebration of the history of motor sport. Your hero (your dad) will be able to see a huge number of his favourite motor sport heroes in action, as many compete against the clock on the challenging 1.16-mile Goodwood Hill.
The theme of this year's Festival is 'True Grit ­ Epic Feats of Endurance.' The theme celebrates the drive and determination of motor racing's heroes, who overcame huge physical, mental and mechanical barriers in their quest for glory. From Jackie Stewart's enduring victory at the 1968 German Grand Prix, despite his broken wrist, to Mick Doohan's courageous return to motorcycle racing in 1992, without full use of his right leg, there are countless amazing tales of performances far beyond what was thought possible for any human being. The 2009 Festival of Speed will celebrate their unrelenting true grit and the legends born from it.
The list of competition drivers and riders due to appear at this year's Festival of Speed is expected to read like a who's who of motor sport champions. Current F1 stars, including Lewis Hamilton and Jenson Button, will rub shoulders with the big names in WRC, World Superbikes, NASCAR and many other motor sport categories, including Mark Webber, Allan McNish and David Coulthard. Father's favourites like Sirs Stirling Moss and Jackie Stewart will join legends such as Jacky Ickx, Damon Hill, Rusty Wallace and Hannu Mikkola.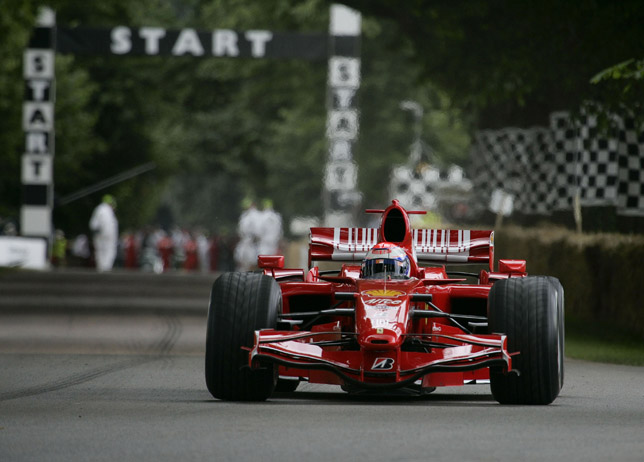 With over 350 vehicles entries, and 90 top drivers expected, the Festival of Speed will have something for every father's taste:
* Racing cars, spanning the decades from early Edwardian racing pioneers, through to current F1 cars, not forgetting legendary Le Mans endurance racers, throaty CanAm cars, current Supercars and a wealth of motorcycles * World rallying heroes going sideways on the exciting Goodwood Forest Rally Stage * Stunning 'central display' featuring 100 years of Audi * Cartier 'Style et Luxe' automotive design competition, including a dedicated class of special Bugattis, Rolls-Royce, Minis and custom chopper bikes. * An air display featuring the Euro Fighter * The FoS-TECH technology pavilion, with plenty of exciting new concept cars, many making their world debut
Add in great live music, plus the Junior Festival of Speed, and the Festival makes for the perfect summer outing, so that the whole family can have fun, not just dad.