Toyota Highlander
Toyota Motor Sales (TMS), USA, Inc., unveiled the all-new next-generation Highlander and Highlander Hybrid mid-size sport utility vehicles (SUV) at a press conference today at the 2007 Chicago Auto Show."Highlander holds a unique distinction within the Toyota brand and within the industry," said Don Esmond, TMS senior vice president, automotive operations. "Along with the 4Runner and the FJ Cruiser, it anchors one of the industry's only three-vehicle, mid-size SUV line-ups. Equally important, along with Prius and Camry Hybrid, it is a key component in the industry's only three-vehicle hybrid strategy."
The 2008 Highlander is significantly larger, roomier and more powerful than the vehicle it replaces. Yet its fuel efficiency will be virtually unchanged. It is noticeably quieter, smarter, with improved versatility and ride comfort. It will offer the highest level of standard safety equipment in a segment where safety is at the top of purchase considerations. And, it's all wrapped in a package designed for buyers who want to stand out and make a statement.
Highlander will have no equal to its comprehensive list of standard safety features. It will provide a segment-leading total of seven airbags, including a driver's knee airbag and roll-sensing side curtain airbags for all three rows.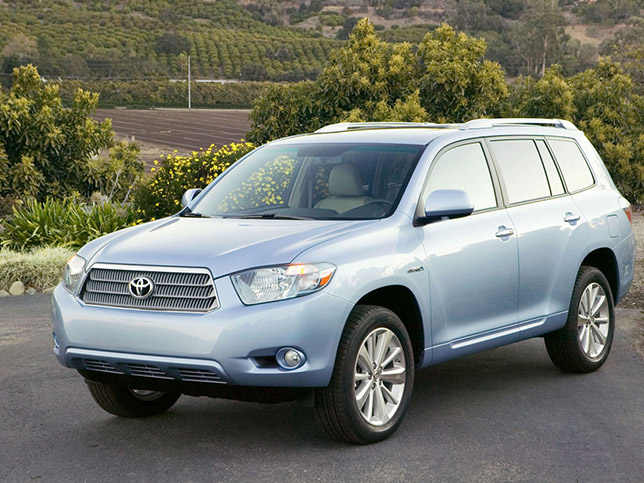 Toyota Highlander (2008)
As with all Toyota SUVs for the last three years, Highlander will provide Toyota's STAR safety system, featuring: • anti-lock brakes, • traction control, • electronic brake-force distribution, • brake assist, • and for the first time, enhanced vehicle stability control, • with electronic power steering.
On all models except the base models, it will provide a stand-alone backup camera with a multi-information screen, not tied to a navigation system. And, Highlander will have the distinction of being the first Toyota division vehicle to feature both active head restraints and a new hood and fender system designed to crumple on impact with a pedestrian.
On the outside, Highlander moves away from traditional SUV styling cues with a statement of strength instead of ruggedness; of intelligence over toughness. Calty Design Research in Newport Beach, Calif. sculpted clean, crisp lines, a wide, stable stance and muscular contours to give Highlander an advanced, contemporary, forceful and dynamic personality.
Highlander rides on an all-new chassis derived from the current Camry and Avalon. It is nearly four inches longer and three inches wider, with an inch more ground clearance and three inches of additional wheelbase.
Interior designers took full advantage of Highlander's substantial dimensions. Design intelligence is carried through to the refined interior, where smart and sophisticated blend with practical, flexible and versatile.
The passenger compartment is open and airy. Convenient and innovative interior features such as flexible seating arrangements, and ease of entry and exit, were directly related to customer input.
For example, Highlander's second-row features captain's chairs with armrests that, if needed, can be converted to a bench seat for three passengers. A "Center Stow" seat, when not in use, is hidden in a compartment under the front center console. In its place, passengers can easily snap in the provided center stow center console or choose to leave the area open as a walk-through to the third row. The second row also slides forward and back 4.7 inches and reclines.
Clever and convenient standard features include: • a third-row bench seat with foldable headrests for a flat rear cargo area, • a rear glass hatch for quick access to the back (optional on base grades), • and Smart Start and Entry for Limited and all hybrid models.
When Highlander arrives in July, it will be offered in Base, Sport and Limited grades. All three grades will be powered by a new 3.5-liter V6 that delivers an impressive 270 horsepower -- a 55 horsepower gain over the previous generation's 3.3-liter engine.
Two months later, the all-new Highlander Hybrid will arrive at dealerships. Offered in both Base and Limited grades, all Highlander hybrids will feature Toyota's advanced VDIM stability system. The system integrates: • full-time four-wheel drive with intelligence, • electronic brake and throttle control, • with true electronically-controlled active steering.
Highlander's advanced Hybrid Synergy Drive system has been extensively upgraded and refined for 2008 for both power and economy. The new Highlander gained about 500 pounds, growing significantly in every dimension and receiving extensive body and chassis reinforcement, aimed specifically at achieving best-in-class crash ratings. Not only were engineers able to increase output to 270 net horsepower, they were able to maintain Highlander Hybrid's impressive fuel economy at 31 city and 27 highway.
The Highlander will be loaded with standard-equipped comfort and convenience features. Nineteen-inch alloy wheels will be standard on both Sport and Limited gas models and both hybrid models.
An array of options and accessories will be offered, such as a power backdoor that can be opened and closed with a key fob, a navigation system with an eight-inch screen, a rear-seat entertainment system with a nine-inch screen, and three-zone air conditioning.
Other options include: • JBL audio with six-disc changer and nine speakers with Bluetooth, • third-row seat delete to create a second-row model, • leather seat trim and heated seats, • and a tow package with a 5000-lbs. maximum towing capacity (class-leading for car & van-based mid SUVs).
"The 2008 Highlander takes the car-based SUV concept to a new level," said Esmond. "I say that with conviction, because it's a category we invented."
The Toyota RAV4, now in its third generation, was the world's-first car-based SUV. In 1998, Lexus established a whole new category of car-based luxury SUVs when it launched the RX300. The debut of Highlander in 2001 marked the beginning of a shift in the mid-size SUV segment, from truck platforms to car platforms.
"As you can see, the new Highlander has raised the bar significantly," said Esmond. "Last year we did the same with RAV4. And in about a year, we'll do the same with both Land Cruiser and Sequoia. The Toyota division now markets a six-vehicle SUV lineup that appeals to specific buyer demographics and life-stages. It is a lineup that gives us enormous flexibility in responding to shifts in the marketplace. We are committed to keeping our products fresh and at the front of the pack."