Vauxhall Corsa VXR Nurburgring Edition
Vauxhall has announced the most powerful Corsa ever. The VXR Nurburgring Edition will hit the market in the end of May.
Corsa VXR Nurburgring will be powered by a 1.6 litre turbocharged petrol engine with 205PS at 5750RPM and 280Nm of torque. The results are thanks to a modified engine management and turbocharger system, sports exhaust with reduced back pressure. The special edition Corsa will run on 98-octane fuel.
Furthermore, the small hot hatch comes with a mechanical LSD (limited slip differential) for maximum traction at all times. It will also reduce the understeer caused by excessive throttle loads during cornering, or changes in the texture of the road surface.
The suspension is also revised. This time it comes from Bilstein, who has developed bespoke spring and damper units for the new model. The vehicle is also lowered with 20mm at the front and 15mm at the rear.
The braking system comes from Brembo and it is 30 per cent lighter than before and has a 10 per cent larger area. In addition, the Corsa VXR features recalibrated ABS, TC (Traction Control) and ESC (Electronic Stability Control).
The performance is superb – 0 to 100 km/h in 6.5 seconds and top speed of 230 km/h (143 mph).
The exterior received several upgrades like stainless steel dual exhaust, newly designed forged aluminium wheels in high-gloss grey, and "Nurburgring" logos on the B-Pillars and front spoiler lip. There are also two new colours available – apple green "Grasshopper" and red "Henna".
The interior boasts black and red "Nürburgring" lettering adorns the sill plates and front Recaro seat backs, with bespoke white stitching on all seats, as well as the handbrake and gearshift console.
Vauxhall Corsa VXR Nurburgring is priced at £22 295.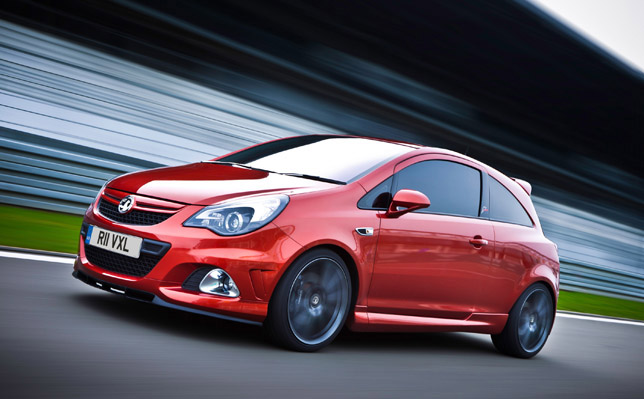 Source: Vauxhall