Volkswagen Adretti RallyCross Crew Is Preparing for the Upcoming Competition

After competing in the inaugural season, Volkswagen Andretti Rallycross team is ready to compete in the Global RallyCross Championship. In 2015 the team will fight its place in the competition with the two Beetle GRC vehicles, which, as you know, debuted in 2014. The vehicle itself is based on the GRC car and features six-speed transmission, further-tuned drive system, upgraded slip differentials.
For the upcoming season, VW crew decided to make some changes on the car specifications and the end result is a Beetle, geared with 2.0-Liter TSI powerplant, capable of producing 553 hp (406 kW) and 465 pound-feet of torque. Impressive, isn't it? This time, the team, that engineered the car, decided to focus on the higher power output and torque, along with some weight equalization tweaks.
SEE ALSO: ABT Releases 400HP Volkswagen Golf R
The redesigned Beetle comes with incredible response and capabilities. Overall, the car is nearly 170 inches long and 70 inches wide. It weighs 2866 pounds. The combination of weight reduction, high power and all-wheel drive results on an incredible sprint, that from 0 to 100 km/h (62 mph) is 2.0 seconds. Impressive, isn't it?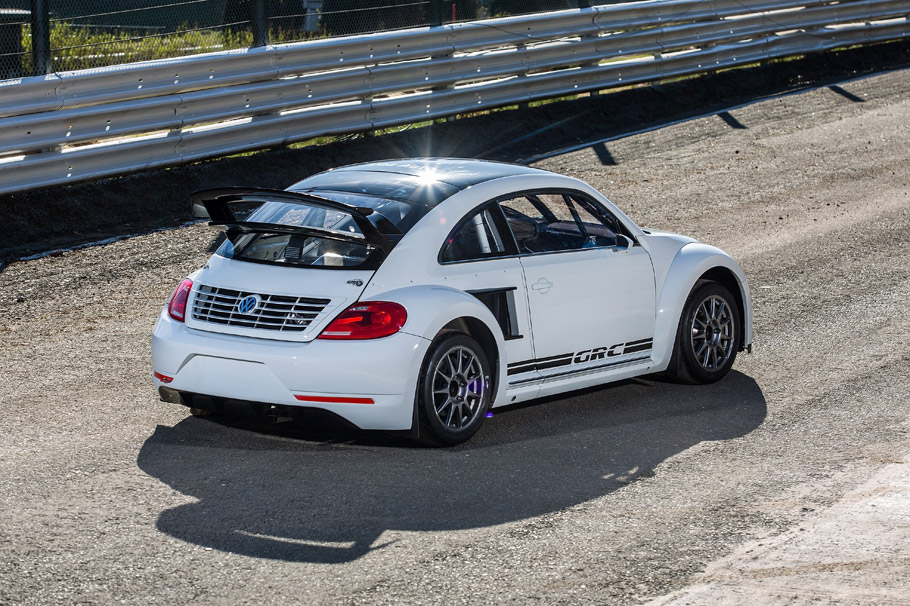 And there is good news for the VW team. Scott Speed is returning to take part of the championship after he recorded three victories in 2014 season. As you know, Speed participated in Formula 1 races back in 2006 and 2007 and in NASCAR races in 2008 to 2013. And as you know, he is known for his incredible rally skills and stunt drives.
We all wish him the best of luck and success!
Press release:
Tanner Foust and Scott Speed will contest the 2015 Red Bull Global Rallycross Championship with a pair of 2.0-liter Beetles
Indianapolis, IN (April 29th, 2015) — After a strong performance in its inaugural season, the Volkswagen Andretti Rallycross team is ready to challenge for this year's driver and manufacturer titles in the Global Rallycross Championship. In 2015, the team will be on the attack with two Beetle GRC race cars, which debuted in the final races of 2014.
This rallycross car is the ultimate expression of the third-generation Beetle. Designed and engineered from the outset as a GRC car, it features a sequential six-speed transmission, with a fixed-ratio all-wheel-drive system that features multiplate limited-slip differentials at the front and rear.
For the 2015 season, the team has chosen to change the engine specification from the car that ran in selected rounds of the 2014 series. In place of that car's 1.6-liter turbocharged and intercooled TSI® four-cylinder engine, there is now a 2.0-liter TSI engine that produces 553 horsepower and 465 pound-feet of torque, compared to 544 hp and 387 lb-ft for the 2014 car. Volkswagen believes that the extra torque of the larger engine will be important for standing start performance, which is a key element in Global Rallycross racing, as well as acceleration from slow corners. Another factor was that weight equalization for the 1.6 liter engine will be removed in the future, moving the U.S. series in line with the FIA World Rallycross series.
The car uses an all-around strut-type suspension, with ZF dampers and about 9.5 inches of travel to cope with the rigors of the off-road portion of a rallycross course. The car has 14.0-inch diameter front and 11.8-inch rear vented disc brakes, with four-piston aluminum calipers. The 17-inch wheels are shod with 240/640-R17 Yokohama competition tires.
The Beetle is highly distinctive, thanks to its outsize rear wing, widebody fenders, and aggressive front fascia. Overall, the car is 168.8 inches long and 71.7 inches wide, and weighs in at 2866 pounds. With this combination of low weight, high horsepower, and all-wheel-drive traction, the Beetle GRC is predicted to sprint from 0 to 60 mph in around 2.0 seconds.
Scott Speed will be returning to the team after recording three victories in the 2014 season and earning third in the 2014 driver's championship. Prior to rallycross, Speed competed in Formula 1 in 2006 and 2007, and NASCAR between 2008 and 2013.
2014 GRC fan favorite Tanner Foust will again be racing the No. 34 Rockstar Energy Drink Volkswagen Beetle GRC. Foust, GRC champion in 2011 and 2012 and runner-up in 2013, is also widely recognized for his rally driving skills, his stunt driving, and hosting the U.S. version of "Top Gear".
"We are very much looking forward to the start of the GRC season with the Beetle," said Jost Capito, Motorsport Director, Volkswagen. "The 2015 Beetle GRC has been further developed, based on all our experience we gained with the brand new Beetle last year. We are looking forward to a serious title challenge with Scott Speed and Tanner Foust in 2015 and we are sure that the Beetles will be real fan favorites again."
The 2015 Red Bull Global Rallycross Championship schedule is the largest to date, featuring races at eight unique tracks with double headers at select venues:
May 31: Ft Lauderdale, FL

June 20: Daytona, FL (I)

June 21: Daytona, FL (II)

July 5: United States Military Base

July 25: Detroit, MI (I)

July 26: Detroit, MI (II)

August 15: Washington, DC

September 12: Los Angeles, CA (I)

September 13: Los Angeles, CA (II)

October 3: Barbados (I)

October 4: Barbados (II)

November 4: Las Vegas, NV
The NBC broadcast schedule will be released at a later date. For tickets and further event information
About Volkswagen of America, Inc. Founded in 1955, Volkswagen of America, Inc., an operating unit of Volkswagen Group of America, Inc. (VWoA) is headquartered in Herndon, Virginia. It is a subsidiary of Volkswagen AG, headquartered in Wolfsburg, Germany. VWoA's operations in the United States include research and development, parts and vehicle processing, parts distribution centers, sales, marketing and service offices, financial service centers, and its state-of-the-art manufacturing facility in Chattanooga, Tennessee. The Volkswagen Group is one of the world's largest producers of passenger cars and Europe's largest automaker. VWoA sells the Beetle, Beetle Convertible, CC, Eos, e-Golf, Golf, Golf GTI, Golf R, Golf SportWagen, Jetta, Passat, Tiguan, and Touareg vehicles through approximately 652 independent U.S. dealers.
About Andretti Autosport Based in Indianapolis and led by racing legend Michael Andretti, Andretti Autosport boasts a wide racing portfolio rooted in tradition and designed for success. Together with Andretti Formula E and Volkswagen Andretti Rallycross, Andretti Autosport fields multiple entries in the IndyCar Series, Indy Lights and the Pro Mazda Championship, along with entries in the FIA Formula E Championship and Global Rallycross. The company boasts four IndyCar Series championships (2004, 2005, 2007, 2012), two Indy Lights titles (2008, 2009), one Pro Mazda championship (2013) and one USF2000 championship (2010) and has captured victory at the famed Indianapolis 500 three times (2005, 2007, 2014). To share in the Andretti story, please visit online at AndrettiAutosport.com or AndrettiTV.com and follow along on Twitter via @FollowAndretti and @AndrettiFE.
Source: Volkswagen