Volkswagen Shows First Looks of the Upcoming Amarok
Volkswagen has big news and we mean it literally. The toughest and biggest vehicle in its lineup (precisely in the Volkswagen Commercial Vehicles lineup) is the Amarok, which is about to make it to the catwalk with its brand new appearance. The German company has unveiled some details and showed three teaser sketches of the changes, which the new Amarok will include.
The images show clearly the values of the premium pick-up. Volkswagen is obviously counting on the combination of combine passenger car-like on-road manners and the full off-road capability… just like it does now. So there are no surprises here.
SEE ALSO: Volkswagen Teases Hybrid SUV Concept Ahead of Premiere in Beijing 
From what we can tell, the vehicle definitely sports more athletic front. VW also unveiled some of the dimensions of the car including the length, which is 5.25 meters, and the width – 2.23 meters (with the mirrors included).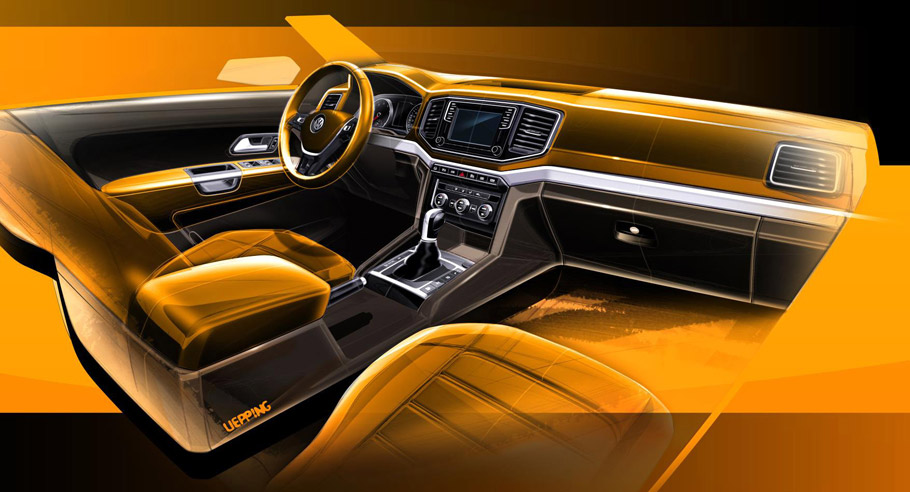 But there is more to that and it is inside, where one meets modified instrument panel giving the Amarok more premium feel. Some of the striking features of the design and of the new commercial vehicles instrument panel include the prominent horizontal lines, while the round contours give way to horizontal and vertical lines, thus expressing more striking appearance.
Besides this information Volkswagen is keeping any other details scarce. What we know is that more about the new Amarok is about to be revealed in due course. At last, we expect to see this VW on sale next year. Stay tuned!
Source: Volkswagen