2013 Volkswagen Beetle Fender Edition Marries Musical And Automotive World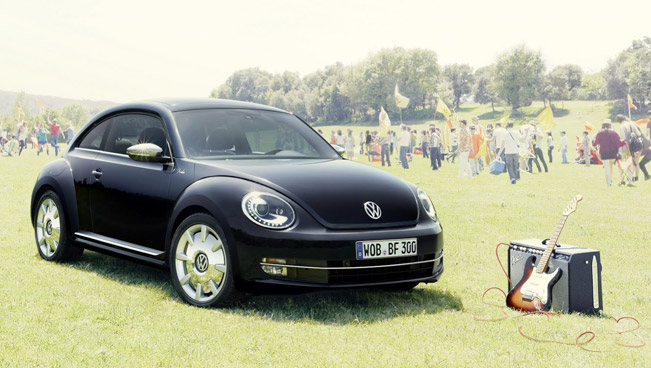 2013 Volkswagen Beetle Fender Edition has just been released. This is a very special edition of the popular car which will excite all musical enthusiasts and especially the guitarists. The Beetle Fender Edition with its style and charm will match perfectly for all those keen on the both brands.
Furthermore, they will benefits from either the 170-horsepower (125 kW) 2.5-liter five-cylinder engine mated to either a five-speed manual or a six-speed automatic transmission; or the turbocharged 2.0-liter TSI® four-cylinder engine that's matched to a six-speed manual transmission or a six-speed DSG dual-clutch automatic transmission.
First of all, the 2.5L version of this iconic Volkswagen features all of the equipment found on the 2.5L Beetle with Sunroof model. On the other hand the 2.0T Beetle Fender Edition takes the Beetle Turbo with Sunroof and Sound as its starting point.
The unique exterior appearance of this car is due to the Deep Black Pearl Metallic paint, brushed chrome mirrors, Fender badging on the sides of the car, 18-inch "Disc" aluminum-alloy wheels, and Bi-Xenon headlights with LED Daytime Running Lights.
The interior shows high-quality as well. Inside, there's a striking dashboard that incorporates the Fender badge and was inspired by the iconic Fender sunburst design. The Turbo models also have sport seats upholstered in V-Tex leatherette with unique cloth inserts.
But what distinguishes the most this edition from other Beetles is that it includes the high-performance, award-winning Fender Premium Audio System. The concert-quality audio is the result of proprietary Panasonic speaker technology, which cuts through noise and dual-voice coil speakers that reproduce the sound of a live performance.
In particular, the sound system comprises of a 10-channel amplifier that delivers 400 watts of system power to four Fender Deluxe tweeters, two Fender Twin speakers, two Fender rear speakers, and one Fender Bassman subwoofer.
2013 Volkswagen Beetle Fender Edition is on sale now with a starting price of $24 440.
Source: Volkswagen