Volkswagen Beetle R Concept at the Los Angeles Auto Show
Volkswagen will exhibit the Beetle R Concept at the Los Angeles Auto Show. The car made its official debut in Frankfurt earlier this year. The US was the biggest market for the previous New Beetle, and that's likely to remain the same with the new vehicle.
Beetle R comes with redesigned front and rear bumpers. The front has three air intakes in a black high-gloss finish and the rear has a diffuser and four tail-pipes – two either side. Above this sits a large spoiler with a gloss black finish on top and body-coloured finish beneath.
Along the sides flashes of gloss black give the Beetle R a distinctive look: it can be found on the door mirror caps (just as on the Golf R and Scirocco R), the door handles, the 15 mm wider side sills and also on the roof.
The Concept stands on 5-spoke Talladega 20" alloy wheels, which will be familiar to drivers of the Golf R or Scirocco R.
The interior comes with racing seats covered in black Nappa leather and dashboard accented in high gloss black. The instrument panel highlights the Beetle R's sporting intent: the tachometer is in the middle and the speedometer to the side, while atop the dashboard are three auxiliary instruments: an oil temperature gauge, chronometer and turbo boost pressure indicator, all with distinctive blue needles.
There is no data about the engine, but Golf R and Scirocco R, use a 2.0-litre four-cylinder turbocharged unit with 270PS and 265PS, so the power will be around that number.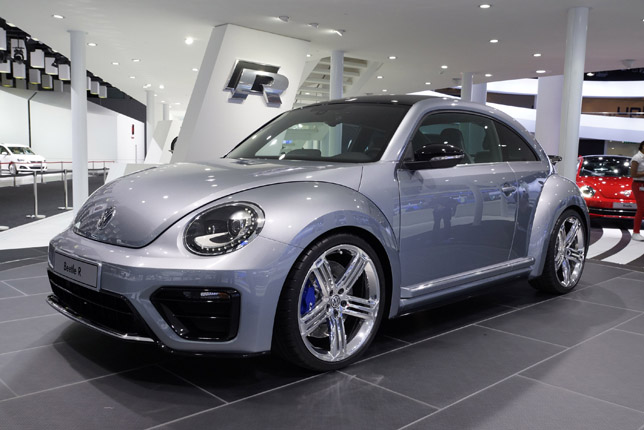 Source: Volkswagen