Volkswagen Caravelle Business
Back in the 50s hippies, surfers and generally happy-go-lucky people had the Volkswagen Caravelle (Transporter T2) to identify with. It was so big (as a name) that it became a symbol of simple life, peace and love. Jump forward 70 years later and we find ourselves at the other end of the spectrum. It's the Volkswagen Caravelle Business (Transporter T5) – the executives strike back.
It's a conference room on wheels basically. You get your Wi-Fi internet connectivity and Bluetooth, 5+1 Nappa leather seats and a table. The mid-row swivels (standard on all Caravelles) so that you can hold a mildly interesting meeting that involves let's say Power Point slides. The rear end seats house a fridge in between them. More luxury is brought by the burr wood inserts here and there while additional curtain airbags ensure all-round passenger safety.
Moving on to the driver, we notice a cruise control option, a 6.5-inch satellite navigation and a 30 GB hard drive. There's also a lane change assist system which monitors blind spots and a very smart heater that can fine tune the interior temperature (the back seats can do that independently).
On the outside, the windows are tinted, the wheels are 17-inches and the rear lights are darkened. For the tight spaces the wing mirrors can be folded electrically while front and rear parking sensors annoy the devil out of you every time you approach a lamp post. A camera acts as a rear view mirror and Xenon lights at the front light up automatically. Can't go without LED daytime running lights and also the side doors slide electronically.
For the driving force, a 2.0 liter 180 PS bi-turbo TDI is used (best of the best). A lump of 400 Nm hits you in the head as soon as 1,500 rpm. The transmission is a DSG unit as standard and thus the economy stays at 34.9 mpg on the combined cycle and Euro5 type of emissions of 214 g/km.
Prices for the Volkswagen Caravelle Business starts at £53,856 or $83,628 excluding VAT.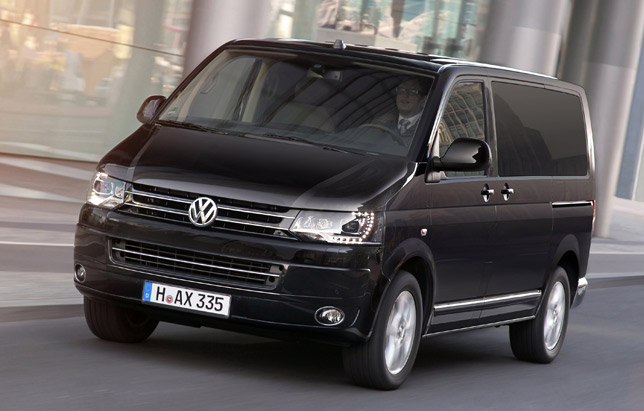 Source: Volkswagen