A Volkswagen Golf for the Summer by Schmidt
When we heard that Schmidt Revolution are bringing out yet another Golf, we got excited. It was only after when we realized that the "programme" comprised solely of a set of wheels and a fancy audio system. The upside of the story is that, since the programme is just that, all Golfs are eligible to it. We were pleased to find out that Schmidt's weapon of choice was a Volkswagen Golf Mk 6 Convertible GTI.
That means 210 hp coming from a 2.0-liter TSI engine which in turn uses a PDK transmission to channel that force to the wheels. This is where Schmidt made their move. The Golf here in the pictures has 8.5Jx19H2 Shift design wheels that boast 45 mm of positive offset. The color: gloss silver. Tires: Conti Sport Contact 5 sized 235/35R19. One however, can go a tad less conspicuous with the 8Jx18H2 version of the same wheels or even the 7,5x17H2 ones.
That leaves us with the B&S Sound system with Rockford Fosgate- and Mosconi-components, a foot-mounted subwoofer and the Kenwood DNX521DAB navigation which is as sophisticated as the Starship Enterprise.
So there you have it. The Schmidt Revolution Volkswagen Golf GTI Convertible – not a lot of work done but then again, not a lot of work needed to be done in order to end up with a genuinely good car.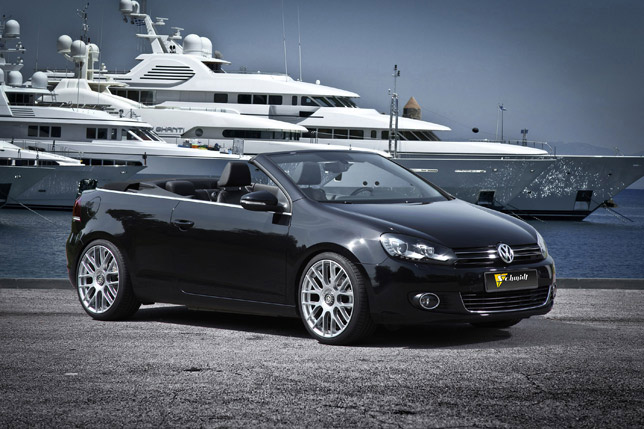 Source: Schmidt Revolution