1983 Volkswagen Golf I Chocolate Brown Becomes Car of a Special Kind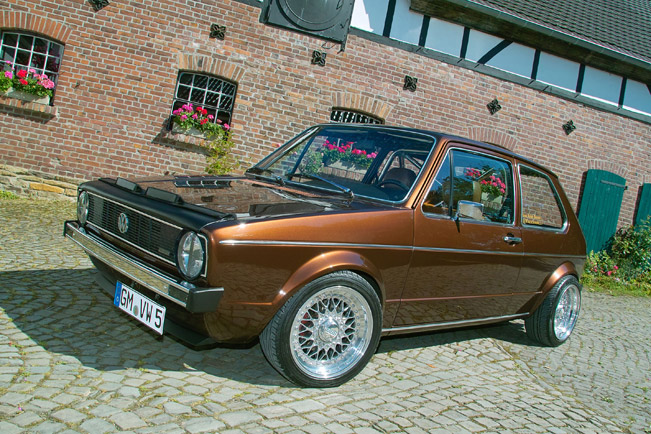 This elaborately modified 1983 Volkswagen Golf I Chocolate Brown won the first place in the Show & Shine competition at the 2012 TÜV Rheinland Tuning Night. In addition to this the lucky winning Volkswagen will become a showcase car for TÜV Rheinland at the Automechanika 2012 in Frankfurt.
Marco Mueller is the name of the owner, and he is proud to demonstrate that spectacular tuning trim. The guy was trained as a master mechanic, so it is not a surprise that he had to deal every day with tuned cars.
He designed this car not with the so much appreciated nowadays prefabricated plastic parts, but instead used the old-fashioned metal work, such as the widened wheel arches.
Furthermore he also utilized chrome parts for the front and rear bumpers and wing mirrors. Additionally, the front optics now benefit from spoiler extension and new grill.
Clear glass headlights and red-tinted tail lights rejuvenate the appearance of the Golf.
The name Chocolate Brown is more than obvious for what it stands. The exterior color of the car has a terrific depth and shines with fascinating reflections. Thanks to the sparkling finish, the Golf I can now show its best side from any perspective observed.
Next, the glossy and compact BBS wheels harmonize with both the upgraded chrome embellishments and the classic feel of the car. In details he used 16-inch wheels with 195/45er Kumho tires.
The driving dynamics were also improved by the stiff suspension and whopping reduction. Other performance parts such as sharp Schrick camshaft, SLS chip, modified throttle, Supersprint exhaust system enhance the performance of four-cylinder barrel organ to an impressive 220 hp (162 kW).
This results in exceptional acceleration from 0 to 100 km/h, which happens in little more than six seconds. The speed limit Marco Mueller estimated at about 220 km/h.
"I'm curious how my colleagues will find the Golf", says the master mechanic, but we can ensure him that the positive feedback is unquestionable.
Source: Miranda Media