Volkswagen Polo GTI 6R Synergetic Effects – A Joint Venture Project
Volkswagen Polo GTI 6R Synergetic Effects is very interesting result of the work of collaboration of CFC® in Weilheim with CFC® StylingStation® Neuss, the firms MK-SoundStyle Neuss, AIV in Heilbronn and ASA-Wheels from Kaiserslautern. They all have established a sort of a joint venture which has an effect this one-of-a-kind Polo.
The CFC® StylingStation® Neuss has done all the work concerning the exterior. What it has done basically is to entirely foil the Volkswagen in a princess-style camouflage design. As you can see this camouflage creates a delicate mixture of the two pink tints of different intensity and the two relatively colorless primary hues.
The vehicle how ever is not girlish at all! The Polo 6R comes with screw-threaded AP chassis with improved dynamics and is equipped with the most exquisite combination of wheels and tires: TEC by ASA AS2 Max.-Pink wheel rims in 8x18 inches are equipped with the package of tires by Falken, in the dimensions of 215/35-18.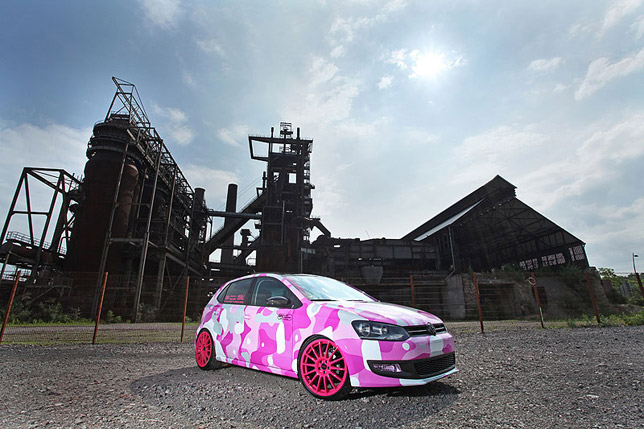 There are also included some carbon parts for which is responsible blackGold designs. Eventually, the rear bumper makes Polo GTI 6R a true "piece of art".
The interior of the Polo was made by MK-SoundStyle and AI, which have taken care for the acoustic system. In the Polo is included full audio system Rainbow DL-C6.2 with 20-mm silk tweeters and a neodymium speaker driver.
The Rainbow Intelli Sub 8 AFE, a very flat 200-mm active subwoofer in the body equipped with High Level In and the auto-start function, is also featured. Under the driver's seat one can find a stable aluminum die-cast body, as well as the woofer with 2 x 2 Ohm dual oscillating coil and a remote control.
Source: Miranda Media