Volkswagen Snowareg - The Best Winter Vehicle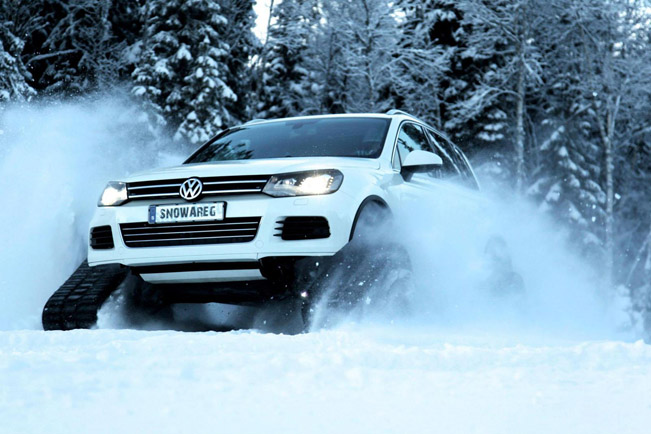 What is the best winter vehicle? Subaru, Mitsubishi or Audi Quattro? You may think so, but none of them can be even close to the ultimate winter vehicle – Volkswagen Snowareg.
The Snowareg is produced for Volkswagen Sweden in 2011. It is based on the latest version of the big SUV. It features tank-like tracks that work "perfect" on all surfaces. In other words, it is suitable not only for going in deep snow, but on mud, grass, ice or tarmac. Still, we doubt  a little for the last one.
The Snowareg has a mighty 4.2 liter V8 TDI with 340HP (250 kW) and 800Nm (590 lb-ft), which is just enough to pull almost everything out of deep snow-drift, except a real tank of course. 0-100 km/h in 5.8 seconds and an average fuel consumption of just 9.1 liters per 100 km (25.8 mpg US) with CO2 emissions of 239 g/km.
So the Snowareg is not only the best vehicle for winter conditions, but it is very "green" and suitable for everyday driving. Luckily, only test drivers will do that and the company won't put it into series production.
Source: Facebook