Volkswagen Taigun First Time in Asia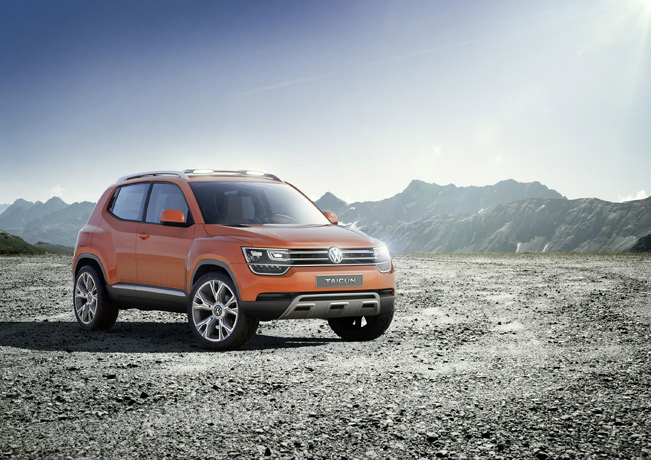 Today the Auto Expo 2014 in New Delhi kicked off and here's what's hot: The Volkswagen Taigun – ever so close to production - is making its Asian premier. This time, however, beside being rather orange, it has a new backside with an exterior-mounted spare wheel. Apparently, that was the feedback the company received ever since the Taigun made its world debut at Sao Paulo. How do you get customer feedback on a concept vehicle?
Just a quick reminder: the Taigun is a compact-SUV (sigh) concept that carries Volkswagen's 3-cylinder 1.0-liter TSI engine: a blatant take on Ford's EcoBoost range. It develops 110hp at 5000 rpm and has an average fuel consumption of 4.7 l/100km. Probably, the fact that the Taigun is really, really small helps.
How small is it? 3,859 mm long without the spare wheel, 1,728 mm wide and 1,570 mm high. Still, it has a relatively big wheelbase at 2,470 mm (the front and rear overhangs stretch out 708 mm and 681 mm respectively). Total weight: just bellow a ton.
The new rear end, as we said, boasts a mounted spare wheel. By the way, all five wheels measure at 17-inches and have 205/50 R17 tires on them. Hinged on the driver's side, the boot lid, which holds the mounts, swinges outwards when opened (the handle is cleverly integrated into the right taillight). The rear window, with the roof spoiler integrated above it, opens independently outwards. Both ends of the underbody make use of a rugged metal protection panel.
Inside, the Taigun offers as much cargo space as it can. With no modifications whatsoever, you get 280 liters of boot to spare. Fold the rear seats and that number grows to 996 liters. There are also storage compartments in the tailgate.
It's a simple, convenient, and easy-to-use everyday car that still holds some off-roading merit. Let's see how they come along with the actual production of it.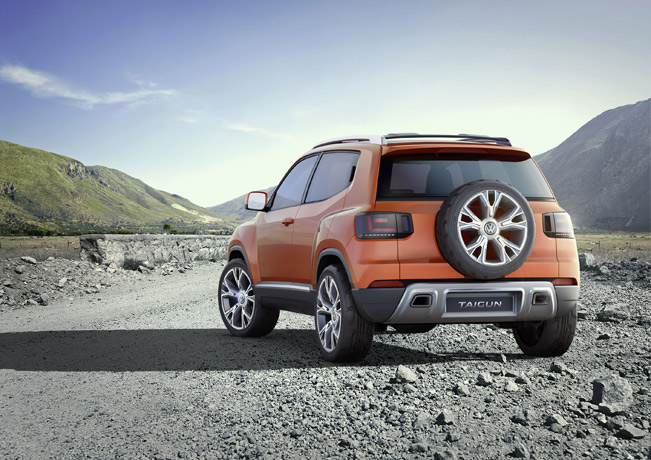 Source: Volkswagen