Vorsteiner V-RT 911 Twin Turbo Cabriolet
Lately, a lot of Vorsteiner dealers tend to showcase exotic cars with kits and wheels from the source. This one is from Wheels Boutique in Florida. Vorsteiner VR-T components expose themselves here and there on this Porsche 911 Twin Turbo Cabriolet.
The VR-T line front bumper seems just about right for the job. It houses bigger carbon fiber air intakes and throws away the factory fog lights and headlight washer bezzles. The VR-T rear bumper works on the wide aspects of the Porsche – the flaring side vents also benefit the intercooler. The back end also gets a molded carbon diffuser with twin fins and enough space for the quad sport exhaust tips. For the overall complete feel, a VR-T rear deck lid and wing had to be heavily modified to fit on the convertible version.
At the end of the day, we have a perfectly decent roadster with a bit of character added that is ready to take you out under the blazing sun Florida. Hope it comes with sunscreen as well.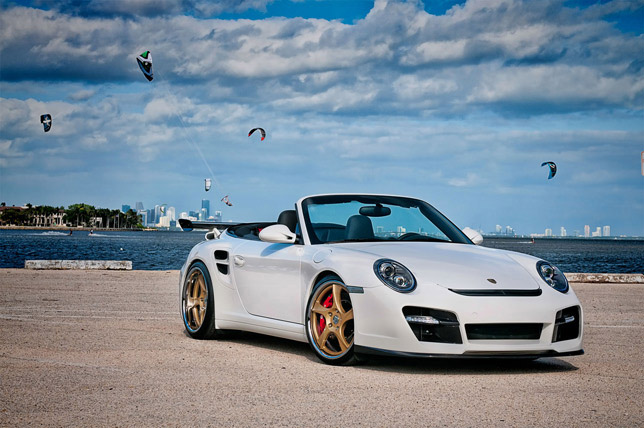 Source: Vorsteiner