World Premiere For 2014 Citroen C3 At Geneva Motor Show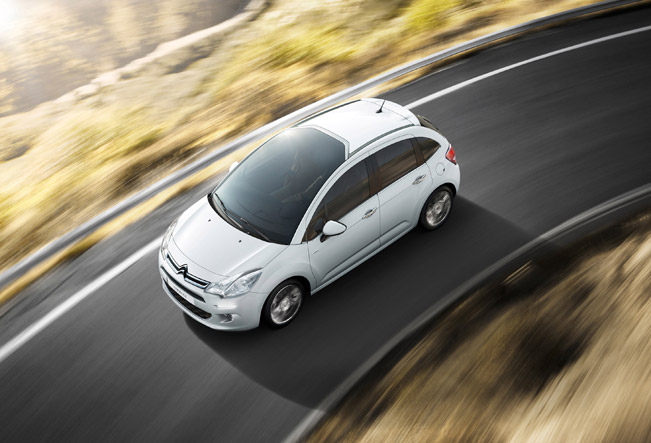 2014 Citroen C3 will make a world debut at the 83rd Geneva Motor Show next month. The C3 model was launched back in 2002 and since then it has achieved a major success in the automotive industry. Now the popular model comes with as fresh features that strengthen and enhance its appeal.
This Citroen is prepared for official market launch in early summer 2013. Here the "Créative Technologie" is featured as a panoramic Zenith windscreen, the efficient engines deliver CO2 emissions as low as 87g/km, and more personality is achieved through assertive styling, a revitalized front end and new tail lights.
First of all, the exterior of the new Citroen C3 has soft curves with dynamic taut lines. The front end is entirely restyled and creates a new 'face' with updated chevrons and bumper-mounted LED daytime running lights.
Additionally, expressive new tail light clusters matched together with new reflectors are set underneath the rear bumper. The range's palette now comprises of nine colours thanks to the addition of the new Ink blue body paint.
Secondly, the interior is finely crafted with top-quality materials, including chrome detailing and a thermo-coated soft-touch dashboard. This can be emphasized through the new dashboard strips in matt black, a warm brown or Moondust grey, which coordinate with the new style upholstery. The instrument cluster is also backlit in white for a modern look.
Although the exterior dimensions of this vehicle are in general compact: 3.94m long and 1.71m wide - with a 10.8m turning circle, the new C3 offers a spacious and practical interior. For instance, it includes 300-litre boot which is among the largest in its class. The semi-high seats deliver easy access and give occupants a commanding view of their surroundings.
Furthermore, the unique Zenith windscreen included in the C3 provides greater visibility. In particular, it increases the upward field of vision for front passengers by 80° and when it is combined with ultra-slim pillars it gives a panoramic view of the road ahead. In addition, the screen will also offer to the occupants a solar protection at the top, which gradually merges into clear glass for an optimum field of vision.
What is more, the comfort of the driving experience is enhanced via the reversing camera and parking sensors. The convenience is increased via technology features such as an RD4 MP3 audio system, Connecting Box (Bluetooth hands-free kit, jack plug and USB socket), eMyWay navigation and a powerful HiFi System.
In terms of power, C3 has new-generation PureTech 3-cylinder petrol engines with a 1.0 or 1.2-litre capacity. Although lively and responsive to drive, they are also fuel and CO2 efficient. For example, the VTi 68 and VTi 82 PureTech engines achieve impressively low fuel consumption, between 62.8 and 65.7mpg, and CO2 emissions between 99 and 104g/km.
And in addition, 2014 Citroen C3 is to be offered with four diesel engines - HDi 70, e-HDi 70, HDi 90 and e-HDi 115. Three of them include micro-hybrid e-HDi technology with the Stop & Start system, thanks to which the C3 makes one of the best fuel efficiency and lowest CO2 emissions cars in its class.
Source: Citroen