xXx Performance Creates 690HP Lamborghini Huracán

xXx Performance Lamborghini Huracan is an example how an Italian sports car can be finessed in Germany so well that it eventually got better. The "Hurricane" character of this Lambo model is supported by the potent 5.2-liter V10 engine, which dispenses 610 hp (449 kW) to all four wheels through the 7-speed dual-clutch transmission. But the figure did not speak to the hearts of the tuners from Germany. So this was the reason they decided to improve the power output of the Italian bull.
Engine Uprating
The V10 powering the Huracan was upgraded via new air intake, a sound flap control stainless steel sport exhaust to reduce backpressure and an ECU remap. The result? The unit now porduces 690 hp (507 lkW) and 650 Nm (480 lb-ft) of torque. Isn't that nice?
SEE ALSO: xXx Performance Juice the Audi R8 4.2 FSI Quattro 
Attractive Exterior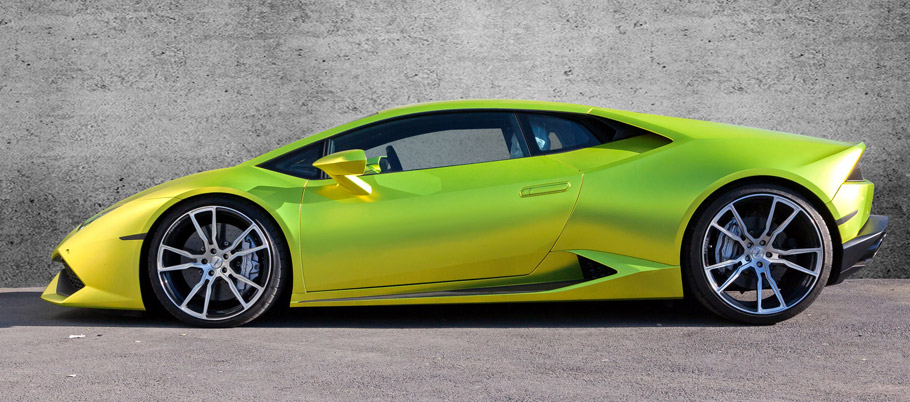 After the tuning of the powerplant, we can surely say that the Lamborghini will move more rapidly than ever. And all you will catch is a green flash as it blows by. Why green? Because the experts did use Chrome Lime Matt foil body wrap applied to car's lines, which further emphasize its untamed character.
The unique bright body colour has been perfectly complemented by the attractive Oxforged 4 one-piece forged alloy wheels delivered by OXIGIN. They come in sizes 9x20 and 12.5x21 inch and are coupled with 245/30R20 and 325/25R21 low profile tyres, at the front and rear respectively. Their milled front polish finish adds to their one-off appearance.
Finally, the tuner decided to lower the car even more and this has happened by the means of H&R lowering springs set. It helps the car get closer to the ground by 25 mm.
Source: xXx Performance