You've Seen 2015 Kia K900, but You Haven't Seen it Like This! [VIDEO]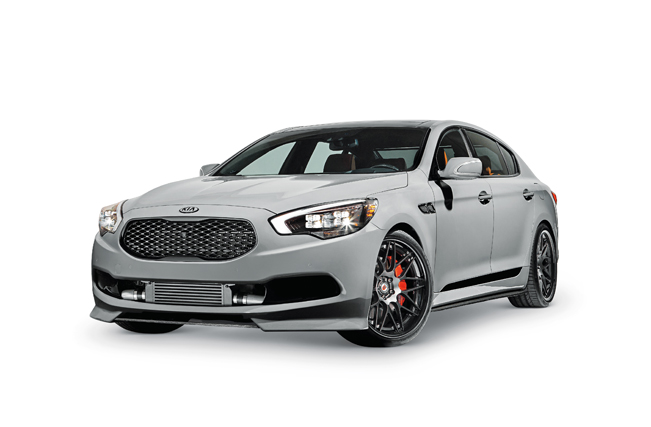 2015 Kia K900 is company's flagship sedan, which recently went on sale, is getting ready to make some "Wows" at the SEMA Auto Show at Las Vegas. For the new model year the car comes with a new V8 engine, next to the still existing V6, which won't be at the top of the top now. But to go directly to the topic, at the event the company will enter a modified Kia which we have never seen before, but thanks to the released video, we can actually hear it roar. It is the so called "high-performance" K900 Concept.
If you follow up the promo film, you'll see the matte gray high-performance SEMA-based K900. Kia is promising that we are about witness exceptional performance blended with personalized style, which are prerequisites for the machine.
Although the Korean company has kept the details about the engine in secret, it has disclosed that the vehicle will have a one-off body kit with carbon fiber inserts, of course will be "wrapped" in custom-blended gray paint, include a blacked-out chrome trim and run on massive 21-inch gloss-black wheels.
Yes, this may be a menacing appearance hinting at the power underneath, but we are still in question of what we are to see under the hood. From listening to this video the engine certainly sounds convincingly. Still, putting the question, whether there is a forced induction going on?
With all the innovative details of the K900 exterior, you can expect the interior will get your adrenaline pumping. You can simply share in the comment section below what do you expect to see.
Video Source: YouTube
Source: Kia