2015 Kia K900 Now With V8 Power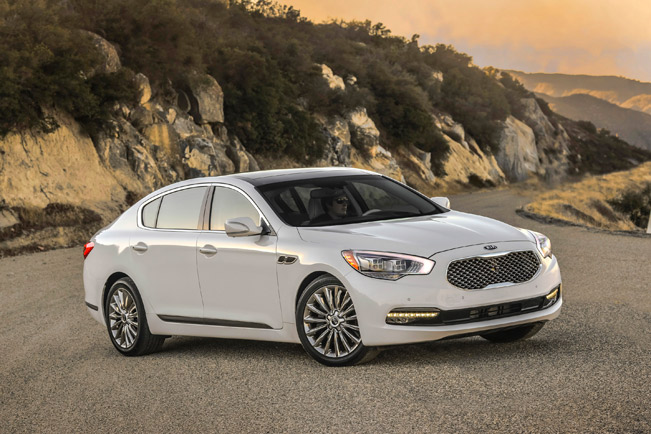 The K900 – Kia's flagship sedan – now comes with a V8 engine. V6 engines will also be available, but they won't be the top of the top now, will they? Also, each version of the 2015 model year has quite a few equipment packages, so you'll have to extra careful in your choice.
The V6 K900 base range – which will go on sale later this year - is called the Premium. It's still pretty luxurious with front and rear park-assist sensors and cameras, a leathered interior, a multimedia steering wheel, LED interior illumination, a 12-adjustable driver's seat and power lumbar support and a few more bits.
For that extra something, you can equip the V6 with a Technology Package. It offers a variety of gadgets that, supposedly, should make your life easier. To name a few, consider the 16-way power adjustable driver's seat with power headrests and cushion extender for added thigh support. Or how about the first-ever-in-a-Kia color Head-Up Display (HUD)? It displays not only things like speed and navigation directions, but also draws and provides information from the Blind Spot Detection and Lane Departure Warning systems (both of which are also standard on the Technology Package). Also included in the package is the radar-based Advanced Smart Cruise Control (ASCC) which is just plain clever (keeps a certain distance from the traffic upfront by adjusting the speed of the car by itself).
The most expensive K900 model you can have would be the V8 with the added VIP Package (daft name). It incorporates all of the features above plus super-fancy back seats with multi-stage heating and cooling. Both of them recline independently and have power lumbar support and lateral headrest adjustability. Behind the wheel of the VIP V8 one finds the "largest TFT instrument panel ever offered in a Kia". On the centre console: a 9.2-inch display that offers access to the Driver Information System. Think of it as Kia's version of the iDrive. It even has a similar rotarty knob. From there you control the 900-watt Lexicon high-fidelity audio system, the navigation, the lot.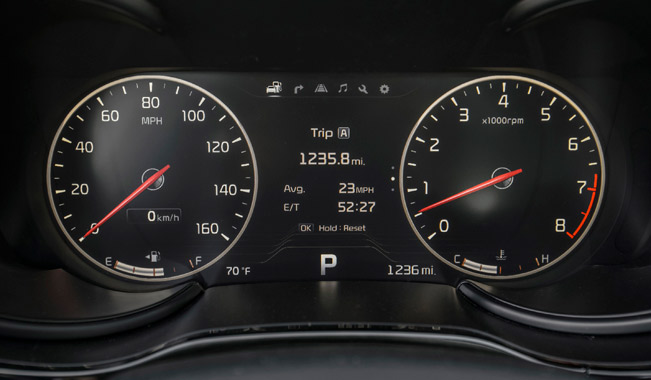 Enough IT lingo, though. Let's move on to the essential bit – the V8. It's a 5.0-liter GDI (Gasoline Direct Injection) plant with dual CVVT variable timing on all 32 valves. It's rated at 420 hp which is 109 more than the V6. The V8 utilizes a roller-type chain and a Teflon coated crank oil seal to reduce wear and tear. A sophisticated catalytic converter is said to help reduce emissions, but we don't know any figures on that yet. The accompanying automatic transmission sports 8 gears. The shifts themselves happen at different rpm points depending on the mode of driving selected (Eco, Normal, and Sport).
The 3.8-liter Lamba V6 is still the most powerful Kia six-pot with 311 hp. It too uses the GDI module and CVVT. A three-step Variable Intake System (VIS), on the other hand, ensures optimum low- and mid-range torque. The Lamba is mated to the same 8-speed transmission the V8 but with appropriately modified ratios.
The chassis is 75 percent high and ultra-high tensile strength steel and holds an advanced five-link fully independent, sub-framed suspension. Front coaxial coil-spring shock absorbers and a new friction bearing in the steering column enhance straight-line stability and steering precision. The back benefits from individual coil springs and shock absorbers which in turn allows negative camber.
The K900 V8 includes as standard equipment staggered P245/45P-19 front and P275/40R-19 rear tires on 19-inch chrome alloy wheels.
Source: Kia