1973 Porsche 917-30 Spyder
Rule changes for the World Championship of Makes eliminated the stunning Porsche 917 during the early 1970s allowing the factory to develop the car for the open-top Canadian-American (CanAm) Championship in North America. Teams from McLaren, Lola and Chaparral were attracted to the 200 mile Sprint races of the formula and the rule book permitted almost anything, including free engine displacement and the use of turbochargers. Porsche used its new-found skills with forced induction to attach two exhaust-driven turbochargers to the flat-twelve engine of the 917.  The result had a displacement of 5.4 litres and produced at least 1,100 bhp, making it one of the most powerful racing cars ever built.
The 917/30 went on to dominate in the 1973 CanAm with the top four places in the final points being taken back to Stuttgart and Porsche factory driver, Mark Donohue, setting a closed circuit record of 222 mph (355.85km/h) around the Talladega Oval, Alabama.  A time that still ranks as one of the fastest race laps ever.
Only two examples of the 917/30 were built, and one of them has been the star of the Porsche Museum in Stuttgart since 1975. It was completely restored in 2000. Experts from the Bosch company optimised the engine's throttle response by updating the control units, with the result that the 24 spark plugs need not be changed so often. Purists may regret this departure from the original specification but it does mean the 917/30 can now participate in renowned historic car events such as the Goodwood Festival of Speed at speeds below 200mph with ease!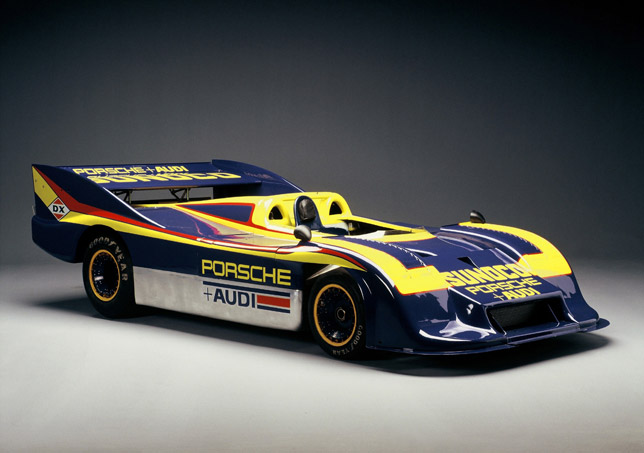 Technical Specification
Engine: Twelve cylinder, air-cooled, two-valves per cylinder, opposed-piston, two exhaust turbochargers, four cog-wheel overhead camshafts
Power: 1,100 – 1,400bhp at 7,800rpm
Displacement: 5,374cc
Dimensions: Wheelbase 2500mm, length 4262mm, weight 800kg
Performance: Top speed approximately 385km/h (240mph)