2009 Ford Everest: Dominant Toughness in Fresh Appearance
A new design look and an array of contemporary features give the new 2009 Ford Everest fresh appeal to go with its image of dominant toughness – Everest is the most capable seven-seat SUV on the road or off, combining best-in-class torque, active versatility, superior off-road capability and Built Ford Tough strength with surprising levels of comfort and refinement.
The new Ford Everest pioneers a suite of new design elements, led by a new-look front design with a classy multi-bar chrome grille and chrome-accented lower grille combining with sleek, wraparound headlamps to create a distinctive signature style. Under its slick new shape are the unrivalled toughness and proven capability that have made Ford Everest a leading choice among SUV buyers.
"More than ever, Ford Everest is the SUV that brings everything together in one great package," said Masaki Makihara, Everest chief platform engineer. "It's powerful, with the best torque in its segment. It's smooth, with its great five-speed automatic transmission. It's versatile, with outstanding space for people and cargo. And it's safe – the only SUV in its class offering both dual front and side air bags. With its contemporary new design look, the dominant toughness of Ford Everest has never been more appealing."
The 2009 Ford Everest, available in XLT and top-of-the-range Limited models in a choice of 4x2 or 4x4 powertrains, features the outstanding responsiveness of Ford's renowned DuraTorq TDCi common-rail diesel engine family. With TDCi power, Everest boasts best-in-class torque output – that's the feeling of instant power on tap to accelerate away from a traffic light or make an overtaking maneuver.
Customers have a choice of a five-speed manual transmission or a sophisticated five-speed automatic, which offers electronic shift-on-the-fly when fitted in the Everest 4x4.
Everest's tough chassis and confident stance – with standard 16-inch wheels or impressive 18-inch diamond-cut and polished wheels available optionally – give it the credentials to handle rough roads or deal with tough conditions, such as the negotiating light flooding that occurs during rainstorms. Inside, the occupants of Everest are isolated in comfort.
These are just some of the strengths that have given Ford Everest its reputation for dominant toughness.
Like Ford's recently launched new Ranger pickup, Everest's name is boldly embossed in the upper grille shape – a design reflecting the pride, confidence and capability of the Ford truck and SUV families.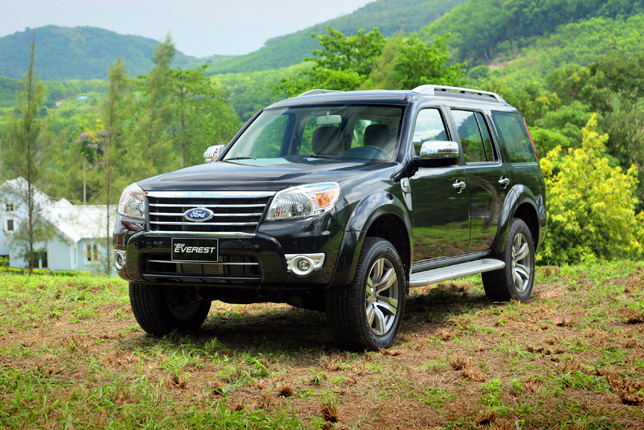 "The name Everest lives boldly within the soul of the vehicle, not just on a badge, and that says a lot about its character and the pride Everest customers have in their vehicle," said Scott Ferrier, design manager, Asia Pacific and Africa, Ford Motor Company. "The new design for 2009 is a more premium look that builds on the capability and robust feel that are Ford Everest hallmarks. We've added contemporary touches that give it a lot more style, but it's the way the new design complements Everest's inherent strengths that was so important for the design team to execute.
"The result," Ferrier says, "is truly a signature look for Ford Everest."
Everest is an important player in the Ford product portfolio, sharing key underlying technologies – such as impressive Ford TDCi common-rail turbodiesel power, torque and refinement – with the Ford Ranger family. The Ford truck and SUV lineup shares another key attribute: proven capability built on a solid, Built Ford Tough foundation.
The Contemporary Shape of Capability
Touches of sophistication abound – the 2009 model evokes the unique spirit of Everest, whose all-conditions performance, generous interior package, seven-seat comfort and outstanding versatility make it delightful to own – and for many a symbol of accomplishment that's also a smart buy. Everest owners say their vehicle is always at the center of the action, whether it's used for work, pleasure, or often, both.
"Everest owners spend a lot of time with their vehicles and find them an invigorating part of their lifestyle," Ferrier said. "They love the versatility, toughness and capability of their vehicles but they also appreciate that its design communicates success and confidence. Our objective in shaping 2009 Everest was to build on this emotional connection to make that vehicle-owner bond even stronger."
New Everest uses rich body sculpting with touches of chrome, brushed aluminum materials and premium details to create an appealing SUV character. From any angle, the design unifies into a compellingly execution of the confident Everest character – a vehicle ideally suited to accomplished people with active lifestyles.
A New Face on Everest
Everest sports a sophisticated, all-new front-end design. Its centerpiece is a new chrome grille, which features contemporary chrome detailing.
The grille design features three, finely detailed horizontal bars that seem to float in the grille opening, the middle of which supports a proud Ford oval badge. Designers sculpted the three-bar grille – a key element of Ford design DNA – to convey the kind of sophistication found in luxury goods packaging. The bars also visually communicate width and confidence, representing Everest's confident stance and go-anywhere spirit.
The top edge of the grille features a wide header bar with EVEREST embossed boldly into its surface. This bar joins the forward edge of the hood and meets the shape of the new Everest headlamp unit.
The headlamps – their fully shaped, impact-resistant transparent surfaces – are each sculpted and detailed with a brow reminiscent of luxurious cut crystal glassware. Chrome bezels to link the grille, hood and the muscular "chamfered" fender shapes seamlessly. Together, these elements are where Everest's robustness and contemporary appeal unite so effectively.
"Our design objective was to complement the robustness and inherent strengths of Everest," Ferrier said. "We believe that these details really fit well with the strength and solidity of the body work and give the new Everest an even stronger aspirational appeal."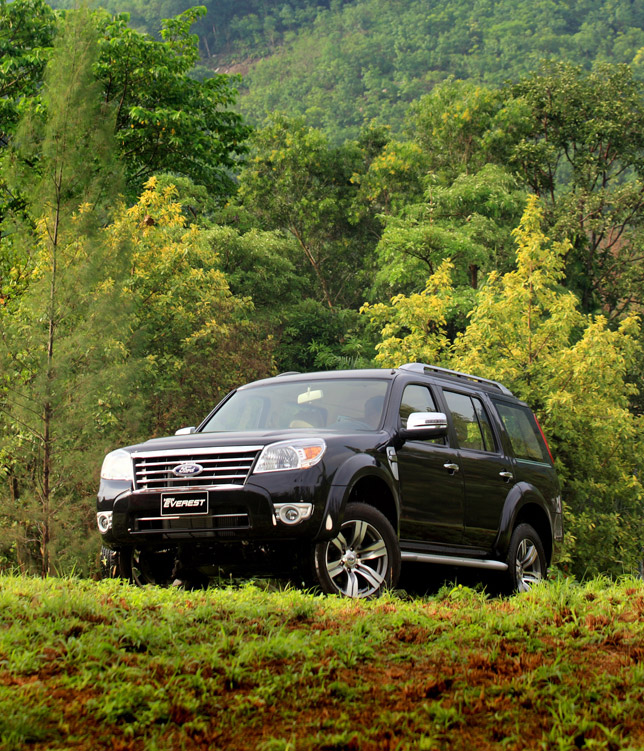 The use of fine chrome detailing is echoed in the lower grille of the new Everest, which is bisected by a singular horizontal bar. Foglamps, housed in sculpted, silver wing-shaped bezels on Limited models, flank the lower grille and provide even further design detail to the new Everest face.
United, these design details create a personality that's unabashedly bold yet refined. Everest's hood is domed to convey the TDCi power and responsive torque beneath, and Everest is clearly a vehicle with substance to back up its style.
Powerful Stance with Eye-Catching Details
Poised on bold, 18-inch, diamond-cut polished wheels straight off a concept vehicle, the new Everest has an unmistakably confident stance that communicates this vehicle is ready to go, whether it's around town, on a great journey or to even greater heights.
The gleaming, 18-inch wheels – available optionally on high-series models – feature bold six spokes in a 'rimless' design that extends each spoke visually straight to the deeply contrasting color of its grippy 255/60R18 tires. Each spoke also has a sculpted venturi shape – painted in a contrasting dark gray shade – cut into its surface. The wheel was first featured in Ford's recent Ranger MAX show truck.
A new 16-inch alloy wheel – in a unique six-spoke design – is standard equipment, fitted with P245/70R16 tires.
The bodywork of Everest's sides is accentuated by bold wheel arches, which further communicate its stance, on-the-road handling character and off-road capabilities. Visually, Everest is a vehicle of substance, and its profile features tinted glass from the B-pillar rearward to lend an air of exclusivity.
Side cladding – body colored, a contemporary design trend – lends a protective feel to the Everest Limited's profile. Everest also features protective overfender cladding in body color.
Everest's profile also features a number of eye-catching details. These features make selective use of contrasting metal shades and chrome to achieve an effect like that of accessories in a fashion ensemble.
Everest's front fenders feature a distinctive fender grille at their trailing edge. It is housed in a matte silver housing sculpted to incorporate a black-lettered chrome Everest badge, with an underlying black meshwork adding visual depth. The fender also sports a TDCi badge to denote the Ford DuraTorq TDCi common-rail turbodiesel powertrain technology in new Everest.
A newly designed, low-profile roof rack provides additional visual contrast. It is shaped in matte silver, accented by black upright supports. It extends from the front seat all the way to the tailgate of the vehicle, providing style and functionality.
Another contrasting detail is Everest's built-in side step, crafted of extruded aluminum with top grooves for a secure foothold and visual style. The sidestep is mounted along the lower sill, visually uniting the two wheel arches. Its ends feature contrasting, titanium-colored caps, one of many facets of the Ford design team's attention to detail.
Everest's side mirrors also include interesting design details and functionality. Their housings – matte black lowers with chrome uppers – incorporate turn indicator repeater lamps and – on Limited models – a puddle lamp feature, which illuminates the ground around the door of the vehicle as the driver approaches the vehicle and unlocks its doors by remote control.
When the doors open, they reveal a distinctive chrome scuffplate with illuminated Everest branding.
Subtle contrasting lines along the lower edge of the rear side glass are a touch of understated elegance. This creates a visual 'chamfering' effect that transitions from the lower bodyside into the upper 'greenhouse' of the vehicle.
Everest – The One to Follow
The contemporary design-driven changes extend to the rear of the 2009 Ford Everest, which features a number of elements that add appeal and exclusivity.
Clever 'wraparound glass' provides a seamless transition from the profile of the vehicle to the rear view.
This wraparound effect integrates Everest's new high-mounted taillamps. These multifunctional units – running lamps, brake lamps and turn indicator under a protective, clear lens and a glossy black housing – feature a slim design that mirrors the height of the adjoining side and rear glass surfaces. The visual effect is a solid ribbon of glass running around the vehicle above its belt line.
Mounted high on the vehicle, the lamps are designed for high visibility. (Everest also features a third, center-high-mount stop lamp which illuminates through rear glass.)
The wraparound effect is a key Ford SUV design cue, executed with pleasing details, from small grooves in the taillamp design to the precise chamfering of the body shape as it wraps from side to rear.
Everest's all-new rear design also features several other key elements:
* An eye-catching new cover for the tailgate mounted spare wheel. Large enough to stow a spare of the optional 18-inch wheel, the spare-wheel cover features a unique molded shape in which an appealing mountain motif appears in relief. A horizontal slot visually links the cover with the vehicle's beltline.
* The tailgate features a chrome handle incorporating a Ford oval badge and concealed lighting for the vehicle number plate.
* A new three-piece rear bumper unit – finished in body color – incorporates rear reflectors and reversing lamps. Body-color cladding applied to the lower sill of the tailgate gives it a matching contour with the bumper for appealing design coherence. The cladding incorporates Everest branding.
"All these features mean that, when you're following this vehicle, it has a distinctive look that's immediately recognizable as a new Ford Everest," Ferrier says. "It is clearly the latest look."
Everest is available in seven exterior paint colors, including new Desert Bronze, and Winning Blue plus Cool White, Highlight Silver, Arizona Gold, Titanium Grey and Black Mica.
TDCi Power and Fuel Economy
With the best torque in its class, Everest provides the power and glory of state-of-the art diesel technology. That's the confidence, premium refinement and outstanding fuel economy of Ford's advanced DuraTorq TDCi common-rail turbodiesel engine family.
Everest offers two highly responsive, 16-valve TDCi versions, both of which feature outstanding torque output plus impressive levels of smoothness and refinement:
* The 2.5-liter Duratorq TDCi engine, rated at 105 kW, which delivers peak torque of 330 Nm.
With plenty of low-end 'grunt', the TDCi engine range makes Everest ideal for overtaking on a highway or tackling the tough off-road terrain. The DuraTorq TDCi pair make Everest a delight to drive in any condition.
The DuraTorq story starts with these engines' incredible reserve of torque – their steep, flat torque curves indicating that Everest is ready when you put your foot down. With TDCi, Everest responds enthusiastically when the light turns green or when the moment is right to overtake. Models equipped with the 2.5-liter TDCi's 0-100 kph time is 14.6 seconds..
But enthralling torque output is just one important aspect of this advanced Ford common-rail diesel technology.
Unlike traditional diesels, common-rail systems generate very high fuel system pressures, up to 1,600 bar – and use finely controlled direct injection to deliver precisely metered amounts of diesel fuel to the cylinders. This approach optimizes diesel combustion, ensuring very impressive performance and eliminating the effect of 'turbo lag' that previous generation engines suffered. The TDCi engines use variable-geometry turbochargers to tailor engine boost levels.
Duratorq technology also contribute to a much more refined, quiet operation and reduced emissions output. Pilot injections, ultra-small doses of fuel prior to a main injection, help smooth the combustion cycle, making it cleaner burning and far less noisy than the diesels of old.
"The DuraTorq engine family is ideally suited to the robustness and premium nature of the Ford Everest," said Makihara. "These engines provide the superior performance, capability and refinement customers in this premium SUV segment expect. We've engineered DuraTorq TDCi to be at the very heart of the Everest ownership experience."
The DuraTorq TDCi engines also have a reputation for excellent fuel economy:
* Equipped with the 2.5-litre TDCi, Everest achieves fuel economy of 8.8 liters per 100 kilometers and an effective tankful range of 678 kilometers.
Everest's 71-liter fuel capacity (6 liters more than Fortuner) contributes to its outstanding range on a tank of fuel.
Loaded with Capability
The sure-footed 2009 Ford Everest is available in 4x2 and 4x4 versions, and is available with a choice of a five-speed manual or five-speed automatic transmission.
Everest 4x4 automatic transmission models feature an electronic shift-on-the-fly system for the convenient selection of 2WD or 4WD mode. The 4x4 system features a proven-tough Borg-Warner transfer case.
With a confidently wide-track stance, Everest is ready for adventure. It is well known for its superior ground clearance and river-fording capability. Its vehicle approach angle (32 degrees) and departure angle (26 degrees) are designed for optimal off-road clearance. Everest overhangs measure 895mm at the front and 1264mm at the rear (length includes spare wheel cover).
The automatic transmission has been carefully calibrated to match the torque output of the TDCi engines with excellent shift quality and refinement. Manual transmission models incorporate the use of a dual-mass flywheel and triple-cone synchronizers for first and second gears to ensure smooth, refined operation.
Everest is equipped with a torque-sensing limited slip differential that apportions torque between the left and right drive wheels to maintain optimum torque balance. This feature is designed for better driveability and handling, particularly in high-speed cornering.
Everest has been engineered to deliver a confident driving character and models equipped with the optional 18-inch wheels feature a suspension system tuned for greater compliance and outstanding ride comfort, making Everest feel more like a premium vehicle.
Capability's Form and Function
Inside, the 2009 Ford Everest surrounds its occupants with car-like comfort and luxury while providing true seven-seater SUV functionality.
The experience begins with outstanding seat comfort and spaciousness. Everest features ergonomically crafted seats with a choice of leather seating surfaces or a new cloth pattern. Door panels are also finished in the same material as the seats for visual appeal and design consistency.
The second-row seats feature Ford's Synchronic one-touch flip-fold system – a key to its interior versatility.
Synchronic seats make it easy to configure the vehicle for all kinds of potential uses, whether it's off to a leisure activity or carrying a load. This system allows the seat back to fold forward and flat.
The third-row seat can flip forward to provide a generous rear storage area with impressive capacity of 1433 liters – nearly 10 percent more than Fortuner. Or the third-row seats can be removed to provide even more load length, especially if the second row is also flipped forward.
Everest's spaciousness also is a key facet of the comfort story. Legroom is generous for all three rows – front 1088mm, second 978mm and third 722mm. Everest's two third-row passengers have 120mm of knee clearance – more generous than Fortuner.
Unlike other vehicles in its segment, Everest features a tiered floorplan that gives occupants of all three rows excellent visibility. And that makes it easy for occupants to get in or get out of the vehicle.
Cool Features
Everest handles the heat with an air conditioning system that is designed to keep all seven passengers cool. It provides dedicated overhead air vents to both the second row and the third row of seats – another Ford competitive advantage in comfort.
Everest's stylish, easy-to-read instrument cluster incorporates an RDS-capable audio system with CD and MP3 capabilities and new AUX input jack in the center console. This allows occupants to feed connect popular MP3 players, such as the Apple iPod, into the audio system.
Everest offers clever interior features and stowage options. There's a handy instrument panel pull-out tray with a 10-kilogram load capacity, enough for lunch on the road or to use a laptop computer. Stowage in the door trims also has been enhanced.
Safety Features
The new Ford Everest is the only vehicle in its segment to offer front and side air, part of an array of active and passive safety features.
Everest is equipped with dual-stage front air bags for driver (45 liters in capacity) and passenger (70 liters). It also has optional side air bags for the driver and front-seat passenger. These 18-liter bags are designed to protect the head and thorax in the event of a side impact.
The air bags work in conjunction with three-point safety belts, another Ford safety distinction. The front safety belts are equipped with pretensioners, which are designed to maximize protection in the event of an impact by cinching the belts taut around the occupants..
A commanding driving position provides excellent visibility for the driver.
Everest's protective body structure features door intrusion beams and reinforced A, B and C-pillars to manage crash forces away from the driver and passengers and maintain the shape and integrity of the passenger safety cell.
Active safety features – designed to help the driver avoid an accident – include the Everest braking system, which features anti-lock braking (ABS) and electronic brake force distribution (EBD). A load-sensing proportioning valve is incorporated to tailor stopping capabilities for optimal control, including laden conditions.
The new Ford Everest also incorporates Ford's unique Passive Anti-Theft System (PATS), for improved vehicle security. A uniquely coded computer chip is included on the ignition key to ensure the vehicle will not start without the correct key. PATS works in tandem with a perimeter alarm.