2012 Jaguar XJ Price - £55 515
The Jaguar XJ 3.0 litre Diesel has received a Green Apple Environment Award. The luxury saloon is being named Gold Winner for Luxury Green Vehicles. The award was voted for by members of the Midlands Group of Motoring Writers and presented by its Chairman, Ian Donaldson.
The XJ was launched in 2010 and has since become Jaguar's award winning flagship saloon, with its Advanced Aluminium Architecture it's capable of achieving 39.2 mpg. Still, it delivers nice performance with the 3.0 litre twin-turbo V6 diesel developing 275PS (202 kW) and 600Nm (440 lb-ft) of torque. 0 to 100 km/h in 6.4 seconds and a top speed of 266 km/h (165 mph).
"This award recognises the XJ's ability to achieve high levels of economy and efficiency without compromising on luxury and quality. The XJ has and continues to receive awards across the board – we are delighted with its success.", said Jeremy Hicks, Managing Director, Jaguar UK
This month has seen the launch of XJ Sport and Speed pack at the Dubai Motor show – in supercharged form, the fastest and most dynamic XJ ever created.
2012 Jaguar XJ is priced from £55 515.
| | | | | |
| --- | --- | --- | --- | --- |
| Model | Displacement | power, torque at rpm | acceleration (0–100 km/h) (s) | top speed |
| 3.0 Litre V6 twin turbo Diesel | 2 993 cc | 275 PS (202 kW) at 4000RPM, 600 Nm (440 ft-lb) at 2000RPM | 6.4 | 250 km/h (155 mph) |
| 5.0 Litre V8 Petrol | 5 000 cc | 385 PS (283 kW) at 6500RPM, 515 N-m (380 ft-lb) at 3500RPM | 5.7 | 250 km/h (155 mph) |
| 5.0 Litre V8 Petrol Supercharged | 5 000 cc | 470 PS (346 kW) at 6000RPM, 575 N-m (424 ft-lb) at 2500RPM | 5.2 | 250 km/h (155 mph) |
| 5.0 Litre V8 Petrol Supercharged | 5 000 cc | 510 PS (375 kW) at 6000RPM, 625 N-m (461 ft-lb) at 2500RPM | 4.9 | 250 km/h (155 mph) |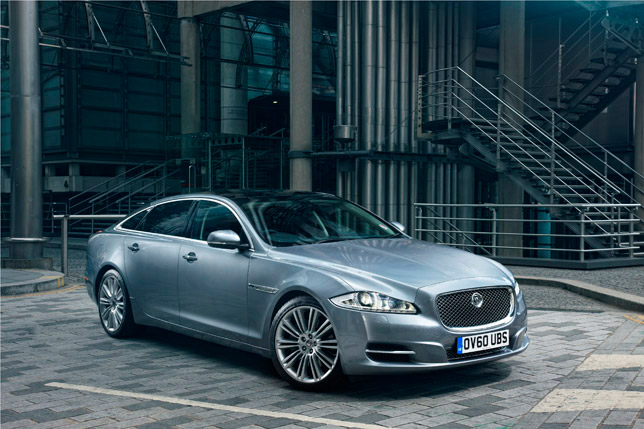 Source: Jaguar