2012 Land Rover Defender Price £20 995
Land Rover has announced its new 2012 Defender, which comes with EURO 5 2.2 litre common rail diesel engine replacing the old EU4 2.4 litre unit.
Still, besides the smaller capacity, the new engine delivers the same amount of power, torque and the economy is even better. In EU5 markets, the new engine comes with a DPF (diesel particulate filter) to ensure the lowest possible levels of regulated emissions.
"The substantial improvements to the Defender in 2007 transformed its on-road refinement and comfort whilst extending its legendary capability off-road for which Defender is synonymous. With the introduction of the new 2.2-litre diesel engine and two option packs, the Defender for 2012 now offers greater customer choice than ever before," said John Edwards, Land Rover Global Brand Director.
The new 2.2 litre diesel delivers 122PS (90 kW) at 3500RPM and 360Nm (266 lb-ft) at 2000RPM. The top speed is 144 km/h (90 mph). The engine is mated to a GFT MT 82 6-speed gearbox.
2012 Land Rover Defender is priced at £20 995 OTR and it will hit the UK market in November this year.
Two new option packs
Comfort Pack - Air conditioning, CD Player with auxiliary input, electric windows and remote central locking. The Comfort Pack costs £1650.
Off-Road Pack - ABS, heavy duty rim and MTR tyre, tow ball and under-ride protection bar. The Off-Road Pack costs £1500.
Check out the full price list, below!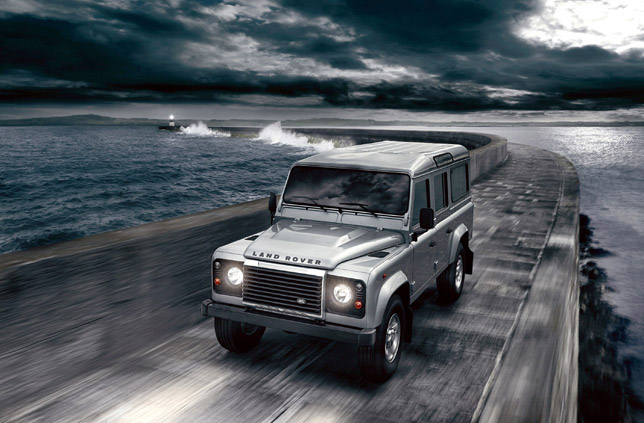 | | | | | | | | |
| --- | --- | --- | --- | --- | --- | --- | --- |
| | List Price | CO2 Offset | VAT 20% | Max Rec Retail Price | P11D Price | Road Fund Licence & 1st reg fee | On the Road Price |
| 90 | | | | | | | |
| Hard Top | £17,905.00 | £120.00 | £3,605.00 | £21,630 | £21,630 | £265 | £21,895.00 |
| Pick Up | £17,155.00 | £120.00 | £3,455.00 | £20,730 | £20,730 | £265 | £20,995.00 |
| Station Wagon | £19,488.33 | £120.00 | £3,921.67 | £23,530 | £23,530 | £265 | £23,795.00 |
| County Station Wagon | £21,321.67 | £120.00 | £4,288.33 | £25,730 | £25,730 | £265 | £25,995.00 |
| XS Station Wagon | £24,238.33 | £120.00 | £4,871.67 | £29,230 | £29,230 | £265 | £29,495.00 |
| 110 | | | | | | | |
| Chassis Cab | £17,895.00 | £130.00 | £3,605.00 | £21,630 | £21,630 | £265 | £21,895.00 |
| Hard Top | £19,228.33 | £130.00 | £3,871.67 | £23,230 | £23,230 | £265 | £23,495.00 |
| Pick Up | £18,561.67 | £130.00 | £3,738.33 | £22,430 | £22,430 | £265 | £22,695.00 |
| High Capacity Pick Up | £19,145.00 | £130.00 | £3,855.00 | £23,130 | £23,130 | £265 | £23,395.00 |
| Station Wagon | £21,395.00 | £130.00 | £4,305.00 | £25,830 | £25,830 | £265 | £26,095.00 |
| County Station Wagon | £23,145.00 | £130.00 | £4,655.00 | £27,930 | £27,930 | £265 | £28,195.00 |
| XS Station Wagon | £26,561.67 | £130.00 | £5,338.33 | £32,030 | £32,030 | £265 | £32,295.00 |
| Utility Wagon | £21,395.00 | £130.00 | £4,305.00 | £25,830 | £25,830 | £265 | £26,095.00 |
| County Utility Wagon | £23,145.00 | £130.00 | £4,655.00 | £27,930 | £27,930 | £265 | £28,195.00 |
| XS Utility Wagon | £25,728.33 | £130.00 | £5,171.67 | £31,030 | £31,030 | £265 | £31,295.00 |
| Double Cab | £19,978.33 | £130.00 | £4,021.67 | £24,130 | £24,130 | £265 | £24,395.00 |
| County Double Cab | £21,478.33 | £130.00 | £4,321.67 | £25,930 | £25,930 | £265 | £26,195.00 |
| XS Double Cab | £24,228.33 | £130.00 | £4,871.67 | £29,230 | £29,230 | £265 | £29,495.00 |
| 130 | | | | | | | |
| Chassis Cab | £20,645.00 | £130.00 | £4,155.00 | £24,930 | £24,930 | £265 | £25,195.00 |
| Double Cab Chassis Cab | £22,395.00 | £130.00 | £4,505.00 | £27,030 | £27,030 | £265 | £27,295.00 |
| Double Cab | £24,061.67 | £130.00 | £4,838.33 | £29,030 | £29,030 | £265 | £29,295.00 |
Source: Land Rover