2012 Volkswagen Amarok UK 2.0 BiTDI - Price £19,795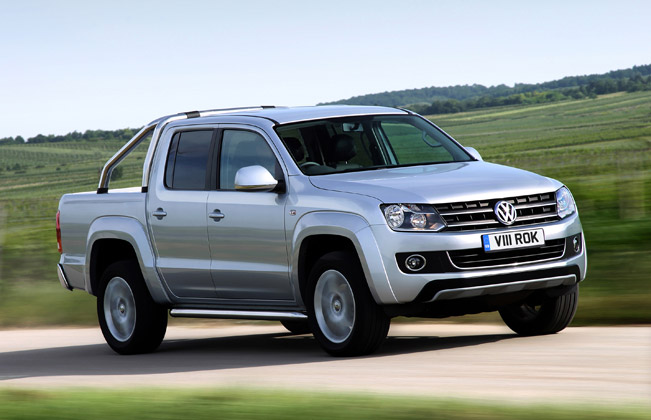 Volkswagen has announced the new updated 2012 Amarok coming with a power upgrade for the 163 HP BiTDI engine to 180 HP, and the introduction of BlueMotion Technology models to offer improved efficiency and dynamics.
2012 Amarok UK can be ordered with a lot of nice extras like Bluetooth, front and rear parking sensors, heated washer jets, tachograph preparation, cornering fog lights and 19" alloy wheels.
To improve the fuel efficiency and lowering harmful emissions, the manufacturer fitted the pick-up truck with low rolling resistance tyres, Stop/Start and regenerative braking. All these features come with the BlueMotion Technology, so the more powerful 180HP 2.0 BiTDI engine is 3.9% more economical, with a combined fuel economy of 37.2 mpg compared to 35.8 mpg.  Better still, emissions drop by 10 g/km to 199 g/km.
The torque of the engine is also improved with 20Nm to a total of 420Nm at just 1,750RPM. The 8-speed automatic gearbox transmits all that power to the road through 4MOTION AWD system.
The 180HP BiTDI engine can be coupled with a 6-speed manual gearbox and selectable 4MOTION all-wheel drive. The pricing start at just £19,795 including VAT.
"The new 180 PS engine and automatic transmission make the Amarok even more refined, plus with BlueMotion Technology also now available, it can offer more efficiency, too.", commented Alex Smith, Director of Volkswagen Commercial Vehicles.
"The Amaroks from Germany are now arriving in Van Centre showrooms, with demonstrators available for test drives,", he finished.
Check out the price list and the specs below.
Amarok performance and technical specifications:
| | | | | |
| --- | --- | --- | --- | --- |
| | Combined MPG | 0-62 mph (seconds) | CO2 (g/km) | Payload (kg) |
| Previous163 PS 4MOTION Selectable | 35.8 | 11.1 | 209 | 1,064 to 1,108 |
| Previous163 PS 4MOTION Permanent | 35.8 | 11.1 | 209 | 750 |
| New 180 PS 4MOTION Selectable | 35.3 | 11.0 | 211 | 1,091 to 1,145 |
| New 180 PS 4MOTION Permanent BlueMotion Technology | 37.2 | 11.0 | 199 | 772 |
| New 180 PS 4MOTION Permanent BlueMotion Technology automatic | 35.3 | 11.3 | 211 | 1,077 |
Amarok retail and on the road (OTR) prices:
| | | |
| --- | --- | --- |
| | Retail £ (ex VAT) | OTR £ (inc VAT) |
| Startline 2.0 TDI 122 PS 4MOTION Selectable 2.0 BiTDI 180 PS 4MOTION Selectable | £18,795 £19,795 | £23,526 £24,726 |
| Trendline 2.0 BiTDI 180 PS 4MOTION Selectable | £20,795 | £25,926 |
| Highline 2.0 BiTDI 180 PS 4MOTION Selectable 2.0 BiTDI 180 PS 4MOTION Permanent BlueMotion Technology 2.0 BiTDI 180 PS 4MOTION Permanent BlueMotion Technology auto | £23,375 £23,375 £25,105 | £29,022 £29,022 £31,098 |
Note: Insurance groups - TBC
Source: Volkswagen